Our Office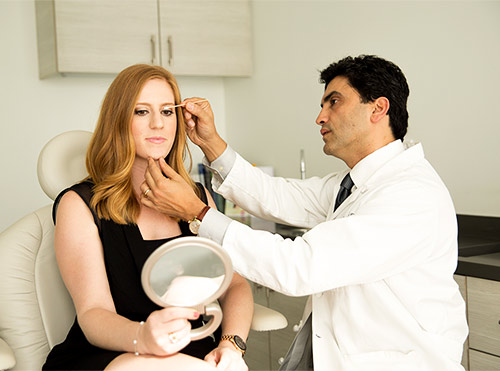 The CENTER for Advanced Facial Plastic Surgery is located in the heart of Beverly Hills. Our office address is 9401 Wilshire Boulevard, Suite #650. It is located off State Route 2, near the Los Angeles neighborhoods of Pico-Robertson and Beverly Grove. 
What to Expect When You Visit Our Beverly Hills Office
We are proud to provide our patients with access to one of the most comfortable and technologically advanced medical facilities in Beverly Hills. Our office is owned and operated by Dr. Babak Azizzadeh, a globally recognized facial plastic and reconstructive surgeon. Dr. Azizzadeh understands the importance of delivering exceptional care. He also recognizes the value of providing outstanding patient experiences. As such, Dr. Azizzadeh strives to help patients feel safe and comfortable any time they visit our office. 
Upon entering our office, our patients will see a spacious reception area, replete with locally produced furniture and beautiful views of Beverly Hills. From there, they are brought to one of several consultation rooms, each of which is equally stunning. At every turn, our office exudes beauty while still remaining a comfortable space where our patients can safely discuss their cosmetic or reconstructive goals with Dr. Azizzadeh. And, we offer top-of-the-line HEPA filters in each room and state-of-the-art UV sterilization between patients.
Further, we are proud to be a green space. Our office also contains revolutionary imaging equipment that allows Dr. Azizzadeh to reveal, to a degree, a patient's rhinoplasty or other facial plastic surgery results. From laser skin resurfacing to injectables such as Botox or Restylane, patients can also come to our office for rejuvenating non-surgical treatments.
How to Schedule an Appointment at Our Beverly Hills Office
Patients are encouraged to contact our Beverly Hills office if they have concerns or questions regarding cosmetic treatments. They can submit appointment requests over the phone or online. 
In addition to providing in-person appointments, Dr. Azizzadeh offers virtual consultations for out-of-town patients. Like an in-person appointment, a virtual consultation can be set up over the phone or online.  
How to Prepare for an Appointment with Dr. Azizzadeh
Dr. Azizzadeh asks patients to share their medical history before an appointment. He also requests patients provide their address, date of birth, and a copy of their identification. 
In addition, Dr. Azizzadeh encourages his patients to prepare questions for their appointment. Dr. Azizzadeh can respond to his patient's questions during their appointment. That way, the patient can learn about different cosmetic procedures and make an informed decision regarding treatment. 
Why Do Patients Choose Dr. Azizzadeh for Cosmetic Treatment in Beverly Hills?
Dr. Azizzadeh is a dual board-certified facial plastic and reconstructive surgeon who has been featured on The Oprah Winfrey Show and interviewed by many media outlets during his career. He has many years of facial plastic and reconstructive surgeon experience and is highly sought-after to perform cosmetic procedures in Beverly Hills.
By choosing Dr. Azizzadeh for a surgical or non-surgical cosmetic procedure, a patient can receive comprehensive care and support. Dr. Azizzadeh takes a holistic approach to cosmetic treatment. He conducts an evaluation to learn about a patient and determine how to safely and effectively treat their cosmetic issues. Next, Dr. Azizzadeh crafts a personalized treatment plan for his patient. 
When Dr. Azizzadeh performs a cosmetic procedure, he verifies his patient is satisfied with the result. Dr. Azizzadeh works closely with his patient throughout treatment. He works diligently to minimize risk during a cosmetic procedure and monitors his patient's progress following treatment. That way, the patient can reap the benefits of a cosmetic procedure that delivers the best-possible results. 
Schedule a Cosmetic Treatment Consultation with Dr. Azizzadeh 
Dr. Azizzadeh is available to meet with patients at our Beverly Hills office or via virtual consultation. To schedule an appointment with Dr. Azizzadeh, please contact us online or call us today at 310-657-2203. 
For those who request an appointment at our Beverly Hills office, please browse our pictures below to see what's in store for your upcoming consultation.
Take a Virtual Tour