Patient Reviews
Teenage Rhinoplasty Patient: I cannot thank him enough for what he did...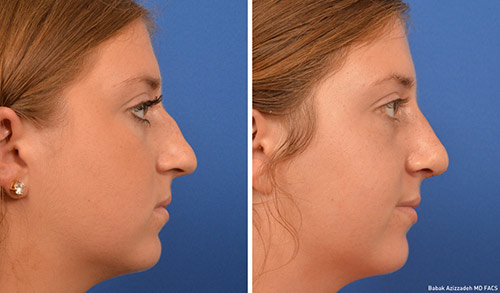 I am now four weeks post-op and I couldn't be happier with the results! I smile every time I pass a mirror, and my self-confidence has received a much-needed boost. I still haven't gotten used to the feeling of being in public, taking pictures, and engaging in everyday life without worrying about my nose.
Read full testimonial »
Video Testimonial: Rhinoplasty
Hope you are having a wonderful summer – we love you and miss you and are so grateful that you came into our lives – looking forward to seeing you in the fall for my 3000 mile check-up! Please give my love to everyone at the office.

Mary Jo Buttafucco
Thank you so much for the wonderful care I received during my surgery. I am so excited to finally be able to breathe through my nose! The rhinoplasty looks wonderful and I promise to be very careful this time around (no baseball, horseback riding accidents with the nose!).

I knew the moment I had my first consult that you were the right surgeon for the job. You are a brilliant and gifted doctor and I am forever grateful to you and your staff.
I want to thank you again (and again) for doing such a great job on my crazy nose. You've been so wonderful in every way. You are an extremely, rare breed – supremely skilled, intelligent, artistic, AND so kind, patient, and compassionate. Thanks a zillion! I hope you and your family have a tweet holiday season!
Your staff are all excellent and wonderful. Thanks!
I wanted to thank you for everything. I didn't to be a difficult patient by asking so many questions. The way I really feel, is "liberated". It's a wonderful feeling, after living with my nose the way it was for so long. I hope you have a very Happy Holiday!
Thank you so very much for the incredible reconstruction you performed. You are amazing!! We appreciate you so very much… We wish you and yours the best for the Holiday Season…
People used to comment that I looked tired, even when I wasn't. The incredible improvement around my eyes is a true testament to Dr. Azizzadeh's superb skills. Now I receive many compliments on my fresh, youthful appearance!
As a motivational speaker and life coach, it is my job to inspire people to fulfill their dreams. Helping others to conquer their fears and reach their goals takes more than compassionate listening and guidance. Whether I'm conducting a workshop, or coaching an individual, it is important that I radiate the kind of exuberance that energizes people to make positive changes in their lives.
With a warm and caring approach, Dr. Azizzadeh listened to my concerns and understood the end-result I wanted from cosmetic surgery. Dr. Azizzadeh's high level of professionalism, talent and sensitivity to my individual needs set my mind at ease and made me feel comfortable throughout the process. In the end, he rejuvenated my eyes, making me look as vivacious as I truly feel.
The confidence I have gained as a result of this transformation has been life-changing. Thank you Dr. Azizzadeh! You are a master of your art!
You should see my face today! I really look great; I am so excited. I never explained this to you before…I was never shy about meeting new people because they never knew me any other way. But seeing people who knew me before Bell's Palsy was so excruciating because there would always be this second where I watched an expression cross their face, like, what happened? It was better if they just came out and asked me if I had a stroke.
Anyway, now I feel my face is so much better, I will never feel that embarrassment again. So there are no words for that. But it is an enormous thing in my life. And I know you probably operate on a lot of gorgeous people who only want to look more gorgeous and I think that's completely legitimate. But believe me, all I ever wanted was to look normal again, and you gave me that. So I will thank God for you every night for the rest of my life before I go to bed. And that is the truth. And I will see you in November for my follow up.
It has been two weeks and two days since my surgery and my face is almost fully recovered. I am back at work now and the feedback from my co-workers is all very positive. My self-esteem has increased tremendously and I feel like I can face the world again. I know that I mentioned this when I left your office to return to Northern California, but there are no words great enough to express my gratitude and awe at your ability as a surgeon. You are the best choice I could have made for my surgery.
Thanks so much Dr. Azizzadeh for the amazing job you did on my nose!! I am thoroughly satisfied with the results and with the care I received at your clinic.
I can't tell you how blessed I feel to have met you and gotten you in my life. I don't know how I got so lucky to have had you bless me with your talent. I of course at this point think of you every day. How could I not, just looking at the mirror and watching the healing process and the transformation take place
You have the biggest heart. I do realize how big of a gift this surgery was. I can't thank you enough for your time, talent, and undying patience with me.
Dr. Azizzadeh, you changed my life. I'm not even completely healed up yet and I am so excited! Dr. Azizzadeh, the first time I met you in person, you were so professional yet so personal. You really do care about your patients and that's what makes you a special Dr. A, you have changed my life and I will NEVER forget you. Thank you for your special care. Your wife and children must be so proud to have a daddy like you. Please continue to do what you are doing and please know you are appreciated
Dr. Azizzadeh, I wanted you to know that your staff is wonderful! I felt like I was in another world or everyone took happy pills because they were all just great! (Thanks Angie for taking my stitches out without me fainting! It was painless! You were great!) . Thanks again to all of you. Your #1 fan
I can't thank you enough for all the caring and support you all have given me these past two months. I have been blessed having you come into my life. My family and I thank you from the bottom of our hearts.
I wanted to write to tell you how much I am enjoying my "new" face and getting the chance to see a more normal "me" again. You erased the burden I've carried with me for seven years of the effects of facial paralysis. The ramifications are many and range from the small, feminine pleasures of putting on lipstick or wearing a necklace to facing each day with happiness and optimism, free of constant self-consciousness and negative memories (from acoustic neuroma). Your skill, artistry, compassion, patience and enthusiasm are greatly appreciated. Thank you for restoring my joy in life.
I keep thinking about you and finally decided to sit down and send a note to tell you (again) how much you've changed my life with the work you did on my face. I am so happy with it, and I just can't thank you enough! A physical therapist was examining my face recently and commented more than once on what a great job you did.
This was my first cosmetic procedure and I am amazed at my transformation. I love the new" me and I am starting to forget the "old" me already! It is amazing how "looking good" can change your entire attitude and outlook on life!
I am sitting here addressing this envelope to you about to start writing in this card when I see you on TV on the Discovery Health Channel. Wow! I am pleasantly surprised! The show segment is featuring your trip to Ecuador. It is highlighting the work you do for children with facial deformities. What a truly special human being you are!! And a kind gentleman. You have helped not only me with my small dog bite but so many others with more severe circumstances. You are one of our angels. I am so grateful to have met you and I am so very appreciative for all that you have done to help me with my lip. I feel so much better about myself and so confident because of you and your expertise. Thank you for your kindness and your generous heart! I adore you for the man you choose to be in this world.
I just had to write again and tell you how thankful I am over the wonderful job you did in surgery. I hope you get similar emails from time to time… When I wake up in the morning, I just wash my face and do my simple routine… I don't think twice anymore. I don't try to lift one side up that seems to be drooping so much – I am so completely grateful I was able to have this surgery. I can't help but think of you when I look at my face and be grateful that you were led to go into this field! Thank you for your excellence!! And strangely enough, I feel I can smile more when I take pictures with my kids. My personality can shine and, though I don't look like I used to with better symmetry, I feel world's better.
Just had to tell you how thankful I am once again! You'll probably hear from me from time to time, expressing my joy! Hope things are going well! My family is well and we are enjoying the blessings God has given us!
I wanted to take the time to write this letter to voice my gratitude to Dr. Azizzadeh, and the entire staff, especially Chloe for all of their help. I now wake up in the morning and smile at my cute new nose. After several years and hours of research, I decided upon Dr. Azizzadeh and flew from Rhode Island to have this done by him. My friends could not understand me flying across the country to have Rhinoplasty and Septoplasty done. They felt that there are very good surgeons in NYC and Boston. After years of research and several consultations, I was at ease with my decision to go ahead with the procedure. I am very selective and with all that I had learned about the risks, I know that Dr. Azizzadeh was the right decision.
Dr. Azizzadeh is an amazing doctor and I could not have asked for a better experience. He expressed genuine and made this very difficult decision so easy and comfortable for me. Dr. Azizzadeh calmed my every fear and personally spoke with me on several occasions, he always made time for me.
I truly appreciate the care and patience displayed by Dr. Azizzadeh and Chloe. It was a pleasure to talk to Chloe who guided me through every step of the process.
The end result was exactly what I wanted! My confidence and self-esteem have risen and I feel much happier now.
It took a lot of time for me to build up the courage to go through with this and looking back, my only regret is that I hade not done it sooner. Dr. Azizzadeh is an amazingly gifted surgeon who genuinely cares about people. I will always be grateful, you have changed my life!
I wanted to write and thank you again for helping me with my eyes. I feel relieved now. I hope you have helped lots of people this year. You are different than most doctors. You really listen. My boyfriend and I will be in Los Angeles in the next few months. I wanted to come in for a few little things and to see everybody. I will call soon. Have a Merry Christmas and a Healthy New Year.
Thank you for everything you have done for me. I feel amazing and I know longer have to look in the mirror and see pain. You have found me again. You are so perfect in listening to my concerns and fixing exactly what needs fixing without allowing me to overdo. You have been given an awesome talent and are using it for so much good. You are truly a blessing and I am grateful to have you as my doctor.