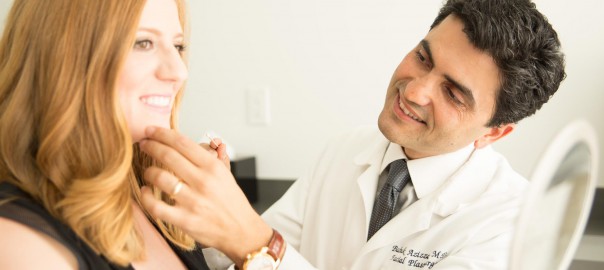 10 Questions to Ask During Your Facial Plastic Surgery Consultation
For those who are considering any type of facial plastic surgery, it is important to schedule a consultation with Dr. Babak Azizzadeh of the CENTER for Advanced Facial Plastic Surgery. Dr. Azizzadeh believes education is critical to help set expectations with patients achieve optimal surgery results.
During a consultation, Dr. Azizzadeh answers many questions, such as:
What is facial plastic surgery?
Facial plastic surgery helps individuals address issues involving the appearance of the face, neck, nose, eyes, and other facial features. It may be performed to address visible signs of aging in the face or to correct severe facial trauma.
It is also very important to understand that while all plastic surgeons are qualified to perform facial plastic surgery procedures, it is best to choose a board certified facial plastic & reconstructive surgeon for any face related surgery, as these surgeons completed extra training specifically in this field. They only perform procedures on the face and have unparalleled knowledge of the facial anatomy.
What facial plastic surgeries are available?
Facial plastic surgeries include:
Facelift: With a facelift, Dr. Azizzadeh helps patients rejuvenate the facial appearance.
Neck Lift: During a neck lift, Dr. Azizzadeh helps smooth excess skin on the neck.
Rhinoplasty: Rhinoplasty can performed to get rid of an unwanted dorsal hump, drooping tip, etc. Dr. Azizzadeh can also perform a rhinoplasty to rejuvenate the appearance of the nose.
Brow Lift: Azizzadeh performs brow lift surgery to help patients eliminate sagging skin on the forehead.
Blepharoplasty: Cosmetic eyelid surgery (blepharoplasty) refreshes the appearances of sagging upper eyelids or unwanted undereye bags.
Are non-surgical options available?
Non-surgical procedures are available, including:
Botox: At the CENTER, Dr. Azizzadeh provides Botox injections to help patients smooth the appearance of the skin on the forehead and the 11-lines and diminish the appearance of crow's feet.
Facial Fillers: With facial fillers, Dr. Azizzadeh restores lost facial volume to fill in lines and creases along the face, get rid of hollow under eyes, or plump up the lips.
Kybella: Dr. Azizzadeh offers Kybella treatments to help patients reduce the appearance of a double chin without surgery.
Microneedling with PRP: Currently one of the most popular skin care treatments, a series of microneedling with PRP treatments will help with cell turnover and collagen production to make your skin glow.
Chemical Peels: A series of medical grade chemical peels with Dr. Azizzadeh can help improve skin tone and treat brown spots.
Am I a candidate for facial plastic surgery? 
During a consultation, Dr. Azizzadeh examines an individual's facial features and medical history to determine if they are a good candidate for surgery. After his evaluation and listening to the patient's goals for surgery, he will explain what he thinks is the best approach to facial rejuvenation. To create overall facial harmony and natural results, Dr. Azizzadeh customizes the surgery to the specific needs of the patient.
How will I look after surgery? 
Dr. Azizzadeh's goal with facial plastic surgery is to make his patients look like the best version of themselves! Dr. Azizzadeh is internationally recognized for his expertise in facial plastic surgery and ensures each patient has realistic expectations for the outcome of a procedure.
How much time do I need to take off for surgery?
Every patient heals at a different rate, and facial plastic surgery recovery varies based on many different factors. Dr. Azizzadeh always explains what patients should expect during the healing process.
What is the goal of facial plastic surgery?
Dr. Azizzadeh wants to help patients achieve beautiful, natural-looking results. To accomplish this goal, Dr. Azizzadeh uses the most minimally invasive facial plastic surgery techniques and offers many treatment options.
How long will treatment results last?
Treatment results vary based on the procedure performed and how a patient cares for the skin following a procedure. Also, the face continues to age even after surgery, and final treatment results depend on an individual's natural aging process.
How much does facial plastic surgery cost?
Dr. Azizzadeh customizes each facial plastic surgery to the needs of a patient. As such, he cannot give surgery prices prior to meeting with a patient. 
Why should I choose Dr. Azizzadeh for facial plastic surgery?
Dr. Azizzadeh takes a holistic approach to facial plastic surgery. With board certification in both facial plastic and reconstructive surgery and otolaryngology (head and neck surgery), he helps patients identify the underlying aging issues in the face and offers a precise treatment that ensures complete facial rejuvenation.
To schedule a consultation with Dr. Azizzadeh, please contact us at 310-817-6490.