Thank You For Contacting Us!
We will get in touch with you shortly.
In the meantime, check out what our patients are saying about us below!
Continue to browse our Galleries! See the results other patients have seen!
Click Here!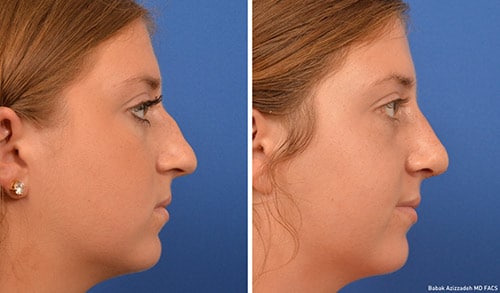 Teenage Rhinoplasty Patient: I cannot thank him enough for what he did...
I am now four weeks post-op and I couldn't be happier with the results! I smile every time I pass a mirror, and my self-confidence has received a much-needed boost. I still haven't gotten used to the feeling of being in public, taking pictures, and engaging in everyday life without worrying about my nose.
Video Testimonial: Rhinoplasty
Hope you are having a wonderful summer – we love you and miss you and are so grateful that you came into our lives – looking forward to seeing you in the fall for my 3000 mile check-up! Please give my love to everyone at the office.
—

Mary Jo Buttafucco
Thank you so much for the wonderful care I received during my surgery. I am so excited to finally be able to breathe through my nose! The rhinoplasty looks wonderful and I promise to be very careful this time around (no baseball, horseback riding accidents with the nose!).
I knew the moment I had my first consult that you were the right surgeon for the job. You are a brilliant and gifted doctor and I am forever grateful to you and your staff.
I want to thank you again (and again) for doing such a great job on my crazy nose. You've been so wonderful in every way. You are an extremely, rare breed – supremely skilled, intelligent, artistic, AND so kind, patient, and compassionate. Thanks a zillion! I hope you and your family have a tweet holiday season!
Your staff are all excellent and wonderful. Thanks!
I wanted to thank you for everything. I didn't to be a difficult patient by asking so many questions. The way I really feel, is "liberated". It's a wonderful feeling, after living with my nose the way it was for so long. I hope you have a very Happy Holiday!
Thank you so very much for the incredible reconstruction you performed. You are amazing!! We appreciate you so very much… We wish you and yours the best for the Holiday Season…
People used to comment that I looked tired, even when I wasn't. The incredible improvement around my eyes is a true testament to Dr. Azizzadeh's superb skills. Now I receive many compliments on my fresh, youthful appearance!
As a motivational speaker and life coach, it is my job to inspire people to fulfill their dreams. Helping others to conquer their fears and reach their goals takes more than compassionate listening and guidance. Whether I'm conducting a workshop, or coaching an individual, it is important that I radiate the kind of exuberance that energizes people to make positive changes in their lives.
With a warm and caring approach, Dr. Azizzadeh listened to my concerns and understood the end-result I wanted from cosmetic surgery. Dr. Azizzadeh's high level of professionalism, talent and sensitivity to my individual needs set my mind at ease and made me feel comfortable throughout the process. In the end, he rejuvenated my eyes, making me look as vivacious as I truly feel.
The confidence I have gained as a result of this transformation has been life-changing. Thank you Dr. Azizzadeh! You are a master of your art!