When men choose to undergo facial plastic surgery procedures, it is vital to find a facial plastic and reconstructive surgeon who is skilled in male procedures. The approach to male plastic surgery procedures is very different than the approach to female patients. Due to his vast experience with male patients, Dr. Azizzadeh provides his male patients with results that maintain their masculine facial features, but still refresh and rejuvenate their overall appearance.
Facial Treatment For Men
The most common facial cosmetic procedures for men include:
Blepharoplasty: Also known as an eyelid lift, blepharoplasty involves the removal of bags from the lower eyelids and excess skin from the upper eyelids.
Facelift: A facelift will rejuvenate the overall appearance of the face. When performed by an expert, the results will be natural and maintain a masculine appearance.
Neck Lift: With a neck lift, an individual can trim and eliminate excess skin on the neck and throat.
Male Rhinoplasty: A rhinoplasty will help reshape an individual's nose, resulting in an improved facial aesthetic. A rhinoplasty also may be performed to correct structural defects related to a deviated septum, breathing issues or similar problems.
Chin Augmentation: As part of a chin augmentation, an individual will receive a small implant in the front of the chin bone that increases and enhances the length of the jawline.
Dr. Azizzadeh will provide full details about all facial cosmetic procedures for men during an initial consultation. By doing so, Dr. Azizzadeh enables patients to learn about many facial cosmetic surgeries and select the ideal treatment.
Benefits of Facial Cosmetic Surgery for Men
There are many benefits associated with facial cosmetic surgery for men, including:
Enhanced Facial Appearance: Many facial cosmetic procedures are designed to help men reduce deep lines and wrinkles and repair structural defects in the face, providing them with a more youthful facial appearance.
Proven Results: A facial cosmetic procedure performed by Dr. Azizzadeh, an expert facial plastic and reconstructive surgeon, will deliver safe, natural-looking results.
Increased Confidence: Facial cosmetic surgery may help men improve their facial appearance, resulting in increased self-confidence.
Dr. Azizzadeh is happy to discuss the benefits of facial cosmetic surgery for men at any time. He can provide men with in-depth insights into facial cosmetic surgeries, how these procedures are performed and much more.
How Do Facial Treatments for Men Differ from Facial Treatments for Women?
Facial treatments are available for men and women, but there are notable differences between both types of treatments. Some of the reasons why facial plastic surgery for men is often performed differently from facial plastic surgery for women include:
Facial Hair: Men generally have more facial hair than women. As such, the incision type and position used during a facial treatment for a man usually differs from those associated with a facial treatment for a woman.
Anatomy: Men tend to have heavier faces and thicker facial skin than women. Also, women tend to have weaker facial skeletal and ligament structures that help a surgeon manipulate various facial structures during facial treatments.
Aesthetics: Whereas men tend to prioritize sharp and more defined facial features relative to facial plastic surgery, women may pursue facial plastic surgeries that help them achieve delicate facial features.
For men who are considering facial treatment options, it is paramount to work with a surgeon who specializes in male plastic surgery. That way, these individuals can receive expert support as they search for ways to achieve their facial rejuvenation treatment goals.
What Is the Best Anti-Aging Treatment for Men?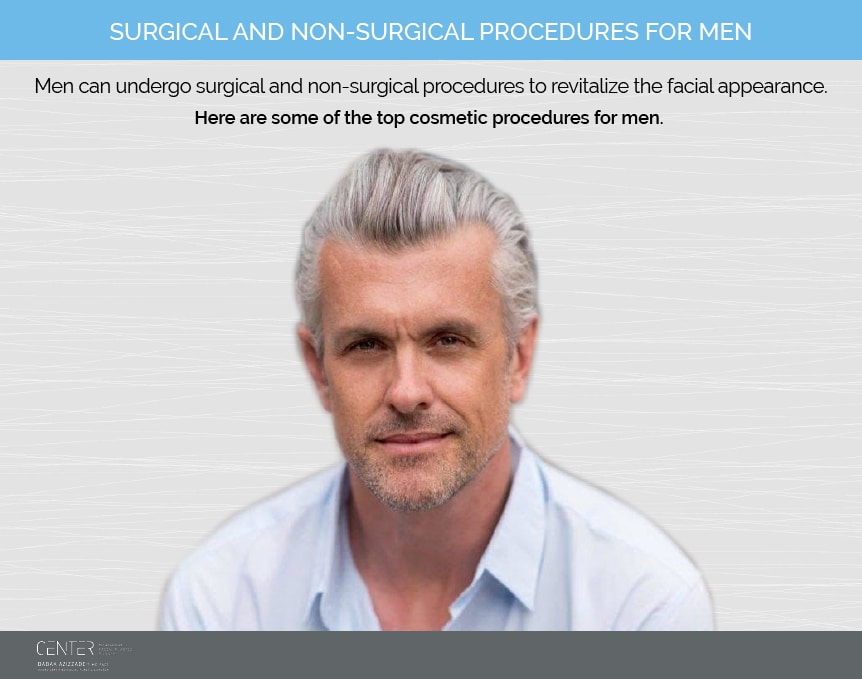 There is no solution to stop the natural aging process, but men can pursue a variety of treatments to revitalize their facial appearance. By meeting with Dr. Azizzadeh, men can explore a wide array of anti-aging treatments.
Dr. Azizzadeh takes a personalized approach to male plastic surgery. He works closely with a male plastic surgery patient to understand his treatment goals. Dr. Azizzadeh then crafts a custom treatment plan for this individual. And together, Dr. Azizzadeh and his male plastic surgery patient take the necessary steps to put this plan into action and help this individual enhance his facial appearance.
Do Facial Treatments for Men Really Work?
Facial treatments for men are designed to help patients accomplish their facial rejuvenation goals. Meanwhile, Dr. Azizzadeh does everything possible to ensure each male facial treatment delivers the best-possible results. Dr. Azizzadeh collaborates with a male plastic surgery patient throughout the treatment cycle. Plus, if a patient ever has concerns or questions about male plastic surgery, Dr. Azizzadeh is happy to respond to them.
Are You a Candidate for a Facial Cosmetic Procedure?
An initial consultation with Dr. Azizzadeh can help men determine if they are viable candidates for facial cosmetic treatments. At this time, Dr. Azizzadeh will examine an individual's medical history and conduct a comprehensive facial evaluation. He also will learn about an individual's treatment goals and respond to any patient concerns or questions.
In addition, Dr. Azizzadeh will describe what an individual should expect throughout the treatment process. He will provide details about how an individual can prepare for a facial cosmetic surgery, along with an estimated recovery period. That way, Dr. Azizzadeh can help an individual fully prepare for treatment.
What Should I Expect During a Male Facial Procedure Consultation with Dr. Azizzadeh?
A male facial treatment consultation is a unique learning experience. It allows a patient to learn about all aspects of male facial treatments, as well as explore his options. Meanwhile, Dr. Azizzadeh uses the consultation to learn about a patient, find out why he is considering a facial treatment and craft a custom plan.
There is no shortage of facial treatments available to men, yet not all of these treatments will help a man achieve his desired results. Therefore, Dr. Azizzadeh tailors a facial treatment to his patient. This allows a male facial treatment patient to achieve a balanced, natural-looking facial appearance.
Additionally, Dr. Azizzadeh is a dual board-certified and Harvard-trained facial plastic and reconstructive surgeon who is happy to share his male plastic surgery expertise. He responds to a patient's concerns or questions about plastic surgery for men, ensuring this individual can make an informed decision regarding treatment.
Why Should I Choose Dr. Azizzadeh for Male Facial Plastic Surgery?
A male facial treatment is comprehensive, and it must be performed by an expert facial plastic and reconstructive surgeon. Otherwise, a male facial plastic surgery patient risks complications that may impact his appearance for years to come.
Dr. Azizzadeh is globally recognized for his male plastic surgery expertise. For many years, Dr. Azizzadeh has performed plastic surgery for men, yet his approach to each procedure remains the same. Dr. Azizzadeh takes a holistic approach to facial treatment for men, and he allocates significant time and resources to each procedure. This approach allows Dr. Azizzadeh to limit the risk of post-surgery complications. It also enables Dr. Azizzadeh to provide his patients with unprecedented care throughout treatment.
Of course, Dr. Azizzadeh assists male plastic surgery patients at all stages of treatment, too. From preparing for a male plastic surgery to the recovery process, Dr. Azizzadeh works closely with his patients throughout treatment. Dr. Azizzadeh wants each of his patients to achieve the best-possible facial plastic surgery results, and as such, provides extensive support before, during and after a procedure.
Schedule a Facial Cosmetic Procedure Consultation Today
Want to find out more about the facial cosmetic procedures available from the CENTER for Advanced Facial Plastic Surgery? Please contact us today at 310-657-2203 or fill out our online form to set up a consultation with Dr. Azizzadeh.