There is no such thing as a "perfect" candidate for plastic surgery. In deciding whether to have cosmetic surgery, patients should examine many factors that extend beyond the procedure itself.
Dr. Babak Azizzadeh of the CENTER for Advanced Facial Plastic Surgery in Los Angeles is a globally renowned facial plastic and reconstructive surgeon who recognizes the value of cosmetic procedures. He evaluates plastic surgery candidates regularly. In many instances, Dr. Azizzadeh can perform a surgical procedure that helps a patient safely revitalize their facial appearance. But, there are also instances in which Dr. Azizzadeh discovers a patient is ineligible for cosmetic surgery.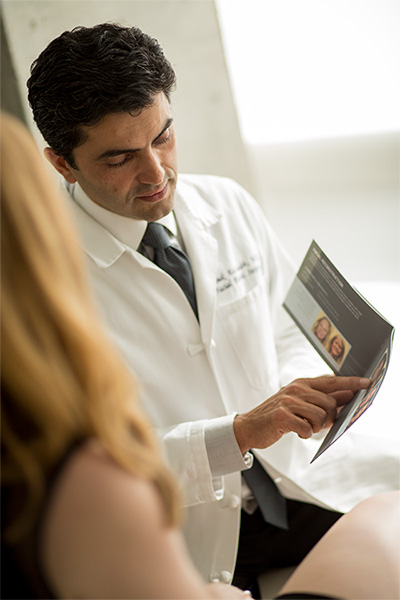 Who Is a Good Candidate for Plastic Surgery?
A good candidate for plastic surgery is healthy enough for treatment. He or she is not dealing with serious medical conditions that can compromise their health and safety during plastic surgery, such as:
Diabetes
High blood pressure
Heart disease
Those who frequently smoke or drink alcohol may be poor plastic surgery candidates, too. Smoking disrupts the skin's ability to absorb oxygen, which can hinder a plastic surgery patient's recovery. It also increases a patient's risk of plastic surgery complications. Comparatively, alcohol can damage the immune system. This damage can escalate if an individual consumes a high volume of alcohol over an extended period of time. The damage can even reach a point where it increases a plastic surgery patient's risk of infection.
What Does a Candidate for Plastic Surgery Look Like?
Men and women can undergo plastic surgery to enhance their facial appearance. Yet, every plastic surgery candidate is different, and each one has cosmetic issues that he or she wants to address.
For example, plastic surgery candidates coping with a nose that is too wide or too narrow may consider a rhinoplasty. Meanwhile, candidates dealing with under-eye bags may pursue a blepharoplasty. There can also be times when candidates consider multiple plastic surgeries to improve facial symmetry and ensure that their facial features complement one another.
People who experience cosmetic issues that hamper their facial appearance may consider plastic surgery. At this time, meeting with Dr. Azizzadeh can be beneficial. Dr. Azizzadeh can perform an evaluation to assess his patient's facial features. He can find out why his patient is considering cosmetic surgery, too. In addition, Dr. Azizzadeh can answer one of the biggest questions on his patient's mind: Am I a candidate for plastic surgery?
Am I a Candidate for Plastic Surgery?
The decision to have cosmetic surgery often requires an introspective look at one's own motivations for seeking cosmetic improvement. Below are some critical aspects one should examine before deciding to undergo cosmetic surgery.
1. Self-Confidence
Confidence is paramount relative to an individual's facial appearance. If someone lacks confidence in their facial appearance, he or she may struggle in several areas. This individual may find it tough to engage with others in social settings. He or she may also become self-conscious about their facial appearance, as well as experience anxiety, depression, and associated mental health issues.
It is important that cosmetic surgery patients have self-confidence prior to treatment. Because even though cosmetic surgery will alter a patient's appearance, it ultimately will not change how this individual feels about himself or herself.
Dr. Azizzadeh never wants plastic surgery patients to view cosmetic surgery as an emotional crutch. If a plastic surgery patient does so, he or she will likely be disappointed in their treatment results.
That being said, a patient should never choose cosmetic surgery solely to improve their self-confidence. Instead, a patient should look at the short- and long-term benefits of plastic surgery. Thanks to the support and guidance provided by Dr. Azizzadeh, a patient is well-equipped to do just that. As a result, a patient can get insights into plastic surgery, weigh all aspects of treatment, and make an informed decision about whether a procedure is right for him or her.
2. Good Health
Good physical health is mandatory to undergo any kind of surgery, including cosmetic surgery. To ensure there are no health risks, Dr. Azizzadeh will gather all necessary information about his patient's current health, medical history, current medications, allergies, and other aspects of their health. Next, he can tailor a specific treatment plan that caters to each aspect of his patient's health.
If a patient has a medical condition that requires consistent medication, this does not necessarily preclude you from surgery. In some cases, such medication is inconsequential and surgery can proceed. In other cases, Dr. Azizzadeh may explore non-surgical treatments, which are less invasive than plastic surgery and still help patients achieve their cosmetic goals.
Moreover, smoking is a major consideration with regard to surgery. Because of this, smokers are asked to quit smoking several weeks prior to surgery, which will allow their circulatory system to recover and reach a state suitable for surgery. After surgery, smokers are asked to refrain from smoking for up to two months, at which point they will likely not want to resume. Consider this a perk of cosmetic surgery.
3. Proper Expectations
While Dr. Azizzadeh doesn't want to minimize his ability to help his patients reach their cosmetic goals, it is still important that patients maintain realistic expectations going into surgery. These expectations have two critical aspects:
Cosmetic Expectations — In undergoing cosmetic surgery, Dr. Azizzadeh and his patient will talk at great length to determine the ideal outcome. During this time, Dr. Azizzadeh maintains open communication, so there is no risk of misunderstandings between him and his patient. As a double-board certified cosmetic surgeon, Dr. Azizzadeh has developed a specific ability to grasp his patients' desires and translate them into tangible results.
Emotional Expectations — While cosmetic surgery can improve a patient's facial appearance, it will not change their basic fiber. The best candidates for cosmetic surgery are looking for cosmetic improvements.
There is a lot to consider relative to cosmetic surgery. By meeting with Dr. Azizzadeh, a cosmetic surgery candidate can learn about different treatment options, how they work, and their pros and cons. This candidate can find out if one or more plastic surgeries can be used to safely improve their facial appearance. And if a candidate moves forward with cosmetic surgery, he or she can get insights to prepare for the treatment process as well.
How to Prepare for Cosmetic Surgery
There can be times when a patient qualifies for plastic surgery but needs help preparing for treatment. By partnering with Dr. Azizzadeh, a plastic surgery patient can receive expert guidance in the weeks and days leading up to their procedure.
Dr. Azizzadeh offers detailed instructions to help his patients prepare for plastic surgery. He generally recommends a patient avoid certain medications and supplements a few weeks before treatment. Dr. Azizzadeh also requests his patients to forgo smoking and alcohol during this time. He asks his patients to undergo a physical exam to confirm they can undergo treatment with minimal risk.
Is Now the Right Time for Plastic Surgery?
A candidate for plastic surgery needs to consider many factors to determine if now is the right time for treatment. These factors include:
1. Cost
The cost of plastic surgery depends on the type of procedure, where it is performed, and other factors. Dr. Azizzadeh details all cosmetic surgery costs prior to treatment. He also provides financing for cosmetic procedures.
2. Recovery Time
Cosmetic surgery recovery time can take anywhere from a few weeks to over a year. Dr. Azizzadeh explains the recovery period associated with plastic surgery. He provides instructions to help his patient prepare for the recovery. Dr. Azizzadeh requests regular follow-up appointments to verify his patient's plastic surgery recovery stays on course, too.
3. Surgeon
Regardless of cosmetic procedure, partner with a plastic surgeon who instills trust. Dr. Azizzadeh possesses extensive facial plastic and reconstructive surgery expertise. He also has helped many patients accomplish their cosmetic surgery goals over the years. By choosing Dr. Azizzadeh for cosmetic surgery, a patient can take solace in the fact that he or she is undergoing treatment performed by one of the world's leading facial plastic and reconstructive surgeons. This patient can also rest assured that Dr. Azizzadeh is doing everything in his power to deliver the optimal treatment results.
What Facial Rejuvenation Treatment Options Are Available?
There are several non-invasive treatment options that can provide appropriate candidates with great anti-aging results. Such non-surgical options can include:
Botox
Dermal fillers
Ulthera
Lasers
Skin care
While some patients can achieve their anti-aging goals from non-invasive procedures alone, others will need surgery. Dr. Azizzadeh will determine which surgical options will best benefit each patient by listening to the patient's personal cosmetic goals, as well as examining the patient for underlying issues. Such surgical options can include:
Facelift
Neck lift
Fat grafting
Browlift
Submental liposuction
Upper & lower blepharoplasty
Chin Augmentation
In many cases, the ideal treatment plan includes both surgical and non-surgical options.
Schedule Your Comprehensive Cosmetic Surgery Consultation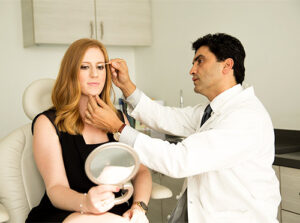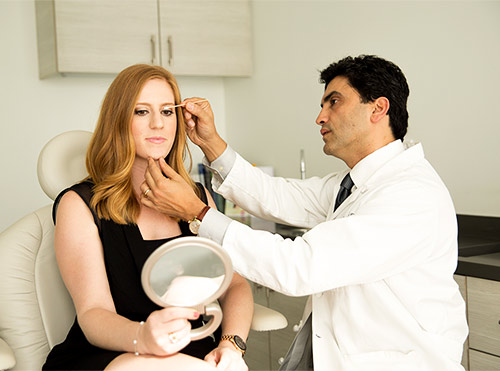 A comprehensive consultation with Dr. Azizzadeh is a unique experience. After examining a plastic surgery candidate's face and getting a good understanding of their treatment concerns and goals, Dr. Azizzadeh will discuss both non-invasive and surgical approaches, where appropriate.
Unlike other plastic surgeons who may only recommend surgery, Dr. Azizzadeh has an innovative perspective of customizing surgical and non-surgical treatments to comprehensively address visible signs of aging. As such, Dr. Azizzadeh will ensure that his patient can achieve a youthful and balanced facial appearance.
As a highly specialized facial plastic and reconstructive surgeon, Dr. Azizzadeh takes plenty of time to help his patients fully understand their cosmetic options during their consultation. He educates patients on the underlying causes of their cosmetic complaints, along with how each treatment option will address those particular issues. In the complex field of facial plastic surgery, knowledge is the most important thing for a patient, and that is Dr. Azizzadeh's primary goal. From there, he knows that his patient will make the right decision.
Dr. Azizzadeh offers in-person and virtual consultations to individuals who are considering plastic surgery. For more information or to request a consultation, please contact us online or call us today at 310-657-2203.