What is a Rhinoplasty Surgery?
Rhinoplasty, also referred to as a nose job or nose surgery, is a cosmetic procedure designed to reshape the nose to create an overall improvement to the facial aesthetic. It also is used to modify the shape of the nose or improve the nasal function.
Dr. Azizzadeh is board-certified in otolaryngology (head and neck surgery) and facial plastic and reconstructive surgery, and his unique expertise provides him with a complete understanding of the complex underlying structures in the head and the nose. As such, Dr. Azizzadeh ensures each patient will receive the best-possible aesthetic outcome without putting his or her breathing at risk.
What Is the Goal of Rhinoplasty?
The goal of rhinoplasty is to reshape the nose and ensure the nose complements the face, eyes, cheeks, and chin. Ultimately, rhinoplasty helps an individual improve the balance of facial features, leading to increased self-confidence.
A rhinoplasty may be used to eliminate facial features such as a "bump" on the bridge of the nose or a "bulbous tip" that draws attention away from the eyes. The procedure has been shown to help patients enhance facial symmetry, improve the shape and/or size of the nose and remove imperfections on the bridge of the nose. As a result, rhinoplasty proves to be a very impactful procedure for those who want to improve the appearance of the nose and bring harmony to the face.
Dr. Azizzadeh is a top primary rhinoplasty surgeon in Los Angeles who has performed facial rejuvenation procedures on celebrities, international dignitaries and many other prominent patients. The best rhinoplasty results vary based on the individual, but Dr. Azizzadeh's approach to nose job surgery always remains the same. He learns about a primary rhinoplasty patient, then customizes a nose job to accommodate a patient's treatment goals. Dr. Azizzadeh next performs a natural nose job, monitors a patient's recovery and works with this individual to produce the best nose job results.
---
What is a Natural Looking Nose Job?
The answer depends on an individual's anatomy, ethnicity, gender and other factors.
To create a nose that matches the face, Dr. Azizzadeh will evaluate a patient's bone structure, lips and chin. Each of these facial features needs to be in balance with the nose to create a well-balanced facial aesthetic.
The eyes should be the focal point of everyone's face. Therefore, Dr. Azizzadeh's goal is to achieve this for his rhinoplasty patients. When someone looks at you and their focus naturally goes to your eyes, that is the result of a successful rhinoplasty outcome.
Achieving a natural-looking nose requires a long-term commitment from both Dr. Azizzadeh and his primary rhinoplasty patient. Before a nose job, Dr. Azizzadeh studies a patient's facial appearance and learns about this individual's treatment goals. If Dr. Azizzadeh believes rhinoplasty surgery can deliver a natural-looking nose, he develops a custom nose job treatment plan for a patient. Or, if Dr. Azizzadeh believes rhinoplasty surgery should be performed in combination with other facial rejuvenation procedures, he crafts a patient's treatment plan accordingly.
---
Benefits of Rhinoplasty
The benefits of rhinoplasty surgery include:
Enhanced Facial Symmetry: With primary rhinoplasty, patients can improve facial symmetry and ensure that the nose appears symmetrical relative to the cheeks, chin and other facial features.
Long-Lasting Cosmetic Improvements: Helps patients improve nose size in relation to facial balance, nose width, a nasal tip that is enlarged or bulbous and other nasal issues.
Correction of Birth Defects: For individuals who were born with malformations of the nose, surgery helps repair and alleviate these issues.
Correction of Sinus Problems: When performed in combination with sinus surgery, rhinoplasty helps patients fix breathing problems and chronic sinusitis.
Improved Breathing: Sometimes, a nose job is performed to eliminate breathing difficulties.
Dr. Azizzadeh is happy to provide patients with insights into rhinoplasty and its benefits. By doing so, he helps patients determine whether a nose job is the best course of action.
---
Rhinoplasty Before and After Photos
Dr. Azizzadeh is one of the most sought-after facial plastic surgeons in the world because his results are so beautiful and he puts compassionate patient care as a top priority. Visit the gallery below to view before and after photos from some of Dr. Azizzadeh's rhinoplasty patients.
Dr. Azizzadeh's expertise in facial plastic and reconstructive surgery has made him one of the most sought after physicians in the world. Click the button below to view his results.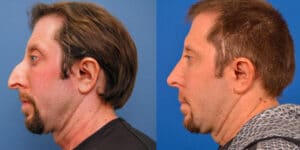 Am I a Candidate for Rhinoplasty?
From a cosmetic perspective, you are a candidate for rhinoplasty if you feel the need to improve the appearance of the nose.
From a technical standpoint, you may be a candidate for rhinoplasty if you display one or more of the following characteristics:
Dorsal hump (hump on nose)
A bridge that is too high or low
A nose that is too wide or too narrow
Wide or flaring nostrils
Bulbous nose tip
Short, upturned tip
Hanging columella
Upturned nose
Droopy nose
Crooked nose
Long nose
Under-projected nose
Asymmetrical nose
Disproportionate nostrils
Alar pinching
What Nose Plastic Surgery Options Are Available?
Much in the way that no two people have an identical nose, there is no true rhinoplasty surgery designed for all patients. Instead, multiple nose reshaping procedures are available. Regardless of rhinoplasty surgery, Dr. Azizzadeh always tailors the treatment to the individual. This ensures a patient can undergo a primary rhinoplasty or any other nose job procedure that results in a harmonious facial appearance.
Teenage rhinoplasty is available to help teens address cosmetic and structural issues of the nose, but this procedure should not be performed until a patient has stopped growing. For teenage girls, surgery can be performed as early as 15 or 16 years old. Meanwhile, for teenage boys, surgery can be completed at 16 or 17 years old.
Additionally, male rhinoplasty is a form of nose surgery designed specifically for men. The procedure helps men improve nose symmetry and repair structural defects of the nose. It also helps men enhance their facial appearance, resulting in increased self-confidence.
Dr. Azizzadeh also understands that patients of different ethnic backgrounds have distinct facial features and nasal structures, and he performs an ethnic rhinoplasty procedure that accounts for a patient's ethnicity. With this procedure, Dr. Azizzadeh ensures patients of all ethnic backgrounds can benefit from a natural-looking and properly functioning nose that complements the facial appearance.
Ethnic rhinoplasty procedures are performed on non-Caucasian patients. These nose surgeries include:
African American rhinoplasty
Asian rhinoplasty
Middle Eastern rhinoplasty
Hispanic rhinoplasty
Dr. Azizzadeh possesses comprehensive knowledge of each ethnic group's nasal features and works with patients to help them achieve their desired results. Regardless of ethnicity, he always ensures a patient's nose fits harmoniously with the eyes, cheeks, chin and other facial features and brings balance to the face.
If a patient does not like the appearance of the nose or has suffered nose trauma, Dr. Azizzadeh can help. He is a top Beverly Hills nose job surgeon who will teach the patient about their options, respond to each patient's concerns and ensure he or she understands the benefits of primary rhinoplasty surgery. Prior to a rhinoplasty procedure, the doctor performs a comprehensive patient evaluation. At this time, Dr. Azizzadeh learns about a patient's medical history and treatment goals. He then determines whether this individual is a viable candidate for nose surgery and offers appropriate treatment recommendations.
---
Why Is Rhinoplasty One of the Most Complicated Procedures?
Rhinoplasty is one of the most difficult facial plastic surgery procedures to perform because the anatomy of the nose is very complex and delicate. Some of the risks associated with nose reshaping surgery can include:
A perforated septum
Chronic nosebleeds
Difficult breathing
Numbness
Scarring
You can feel confident that these risks are as low as possible in the hands of Dr. Azizzadeh because he has dedicated his career to performing safe and successful natural nose job surgeries.
Dr. Azizzadeh focuses on providing patients with well-proportioned and naturally beautiful noses and works with each patient to deliver personalized support. This enables Dr. Azizzadeh to offer custom surgery options to each patient and ensure he or she is fully supported.