Shop at Our Zo® Skin Health Store

Unfortunately, not all skin health products are created equal. The cosmetic industry is riddled with many different types of non-surgical skin tightening options, and differentiating one skincare product from another often proves to be difficult.
As an internationally renowned expert in the field of facial rejuvenation, Dr. Azizzadeh personally investigated ZO Skin Health products. He understands the benefits of these products and offers them to eligible patients. Additionally, Dr. Azizzadeh makes it easy for patients to purchase ZO Skin Health products online.
Dr. Azizzadeh provides ZO Skin Health products as part of a physician-supervised skin health program, and patients can purchase ZO Skin Health products online after consulting with Dr. Azizzadeh. As a ZO Skin Health physician partner, Dr. Azizzadeh gives his patients access to at-home care so they can optimize their skin health.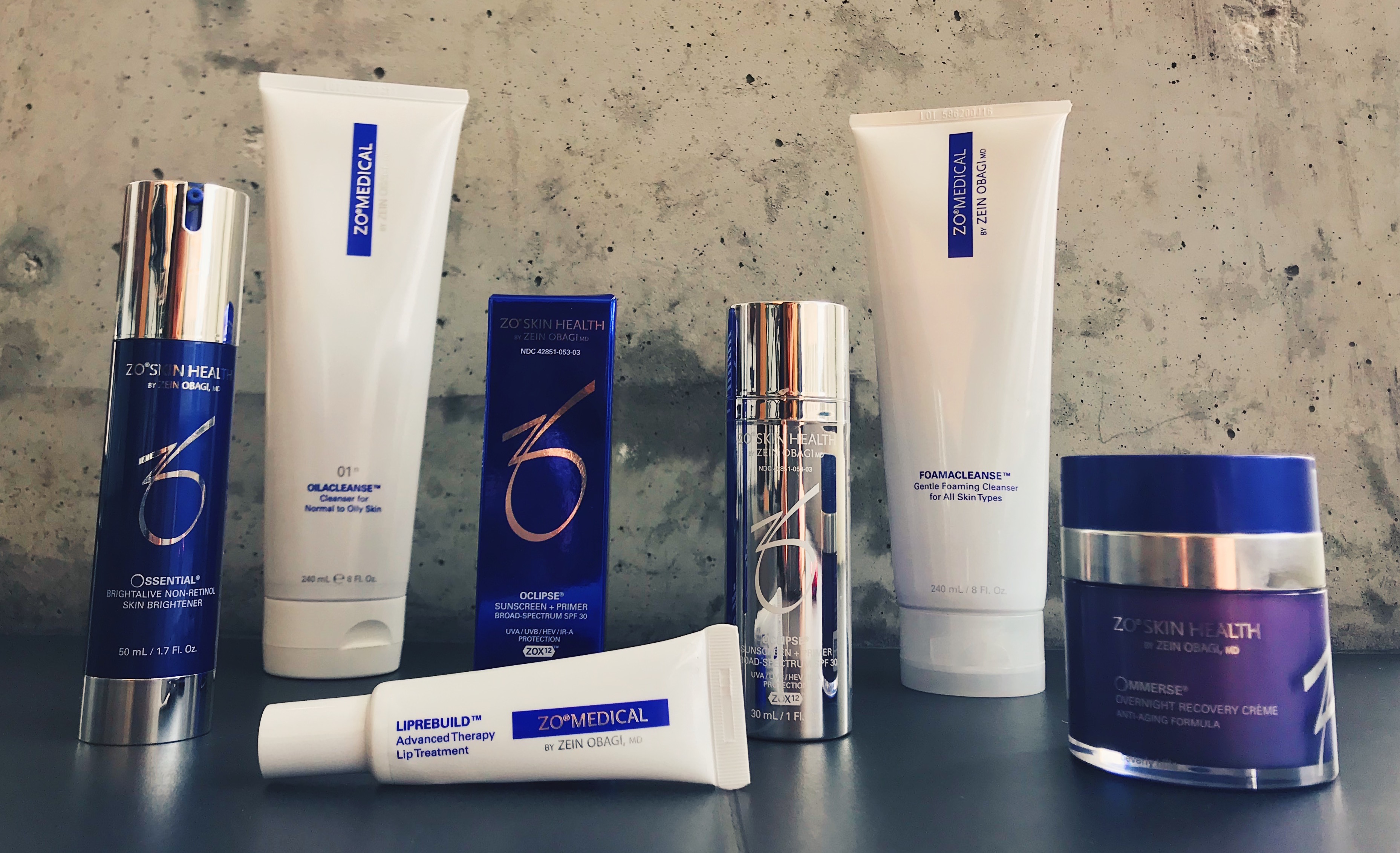 What ZO Skin Health Products Are Available?
Some of the most popular ZO Skin Health products include:
Gentle Cleanser: Designed for all skin types, the Gentle Cleanser removes skin impurities and hydrates the skin.
Exfoliating Cleanser: The Exfoliating Cleanser unclogs pores, eliminates dirt and surface oil on the skin and soothes irritated skin.
Exfoliating Polish: The Exfoliating Polish uses magnesium crystals to eliminate dead skin cells and exfoliate the skin.
Oil Control Pads Acne Treatment: Intended for use in combination with an acne treatment program, the Oil Control Pads Acne Treatment eliminates oil from the skin and reduces skin irritation and pores.
Daily Power Defense: This powerful antioxidant serum repairs skin damage and protects the skin against future damage.
Wrinkle + Texture Repair: This specially formulated crème reduces the appearance of facial lines and wrinkles and balances skin tone.
Growth Factor Serum: This lightweight gel restores skin hydration, elasticity and firmness and reduces the visible signs of aging in the face.
10% Vitamin C Self-Activating: This serum delivers a potent dose of vitamin C to eliminate skin discoloration and prevent new skin pigment from forming.
Brightalive Skin Brightener: This non-retinol skin brightener breaks up existing pigmentation and reduces dark spots on the skin.
Retinol Skin Brightener: The Retinol Skin Brightener provides antioxidant protection and supports skin healing and repair; three Retinol Skin Brightener products are currently available.
Melamin Skin Bleaching & Correcting Crème: This skin bleaching and correcting crème reduces the appearance of chloasma, melasma, freckles and sun damage. It is available by prescription only.
Melamin-C Skin Bleaching & Correcting Creme with 20% Vitamin C: This prescription-only bleaching and correcting crème addresses the most severe and advanced forms of hyperpigmentation.
Melamix Skin Lightener & Blending Crème: This expertly formulated crème hydrates newly exposed skin and balances skin tone.
Hydrafirm: This eye brightening crème addresses puffiness, dark circles and fine linesaround the eyes.
Revitatrol Epidermal Repair Crème: Equipped with a dual-peptide formula, this crème supports natural skin renewal and reduces the appearance of fine lines and wrinkles.
Renewal Crème: This hydrating crème boosts skin moisture and promotes healthy skin repair.
Recovery Crème: This crème complements the skin's natural recovery process and soothes irritated skin.
Zo Skin Health products bridge the gap between therapeutic skincare treatments and daily care. They allow patients to continuously enhance the skin's appearance, regardless of their age, ethnicity or unique skin condition. Additionally, new Zo Skin Health products are introduced regularly, ensuring individuals can take advantage of the latest skincare innovations.
Dr. Azizzadeh is committed to helping patients revitalize their facial appearance. He is happy to meet with patients and help them determine which Zo Skin Health products will enable them to achieve their desired facial rejuvenation results
Benefits of ZO Skin Health Products
The benefits of ZO Skin Health products include:
Therapeutics: Treatments provided by healthcare professionals utilize prescribed products and unique protocols to correct medical skin conditions.
Maintenance: Designed to prevent recurrence of persistent skin problems keeps skin strong and healthy while looking and acting younger more vibrant than ever before.
Daily Skincare: Effective daily solutions help promote cellular function and achieve healthier looking skin day after day.
Prevention: Minimize UV damage, prevent DNA damage, and protect skin from environmental aggressors to improve overall skin health.
Dr. Zein Obagi has developed skincare regimens that can create truly healthy skin. ZO® Medical products that are exclusively available through skin health professionals are the next generation of therapeutic skincare products and treatments.
ZO Skin Health products are available exclusively through skin health professionals and represent the next generation of therapeutic skincare products and treatments. They have been developed in conjunction with a wide spectrum of therapeutic treatment protocols. ZO Skin Health products and programs also are optimized to each patient's needs.
Reasons to Choose ZO Skin Health Products
ZO Skin Health products can be used to address a variety of skin conditions, including:
Acne: Products that help control oil, exfoliate dead skin cells, unclog pores, destroy bacteria growth and prevent acne breakouts.
Aging: Exclusive formulations that help dramatically improve fine lines, uneven skin tone, skin laxity, dull texture and age spots.
Hyperpigmentation: Solutions to even skin color and tone, and help stimulate collagen and elastin production for a firm, bright and smooth facial appearance.
Inflammation: Products specifically designed to help strengthen weak, intolerant and reactive skin.
Rosacea: Solutions that target the root causes that trigger rosacea symptoms to calm, soothe and stabilize skin.
Sun Damage: Formulas designed to offer maximum protection from the damaging effects of sun exposure and environmental pollutants, and help prevent future damage.
Dr. Azizzadeh possesses dual certification in facial plastic and reconstructive surgery and otolaryngology (head and neck surgery). His unique expertise enables him to provide patients with comprehensive support with any of the aforementioned skin conditions. Plus, Dr. Azizzadeh helps patients evaluate surgical and non-surgical facial rejuvenation treatment options and make an informed decision. That way, a patient can quickly and effortlessly revitalize his or her facial appearance.
Schedule a ZO Skin Health Consultation with Dr. Azizzadeh in Beverly Hills Today
Dr. Azizzadeh is a leading provider of ZO Skin Health guidance in Los Angeles, Beverly Hills and the surrounding areas. To set up a ZO Skin Health consultation with Dr. Azizzadeh, please contact us today at 310-657-2203.
Call us for Dr. Azizzadeh's Physician Referral Code.