Your facial plastic surgery recovery should be as relaxing and rejuvenating as possible. Many of our out-of-town and local Beverly Hills patients opt to make reservations at one of our preferred surgery recovery centers for their post-surgical care. The benefit of staying at a surgery recovery center is not having to place the burden of playing "nurse" on a friend or family member.
Pearl Recovery Retreat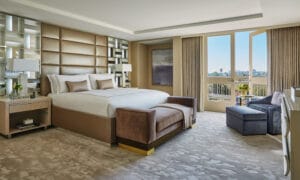 Located just a few minutes away from our Beverly Hills office, Pearl Recovery Retreat is an upscale wellness center that provides patients with a tranquil and luxurious recovery experience. The expert nurses at Pearl are dedicated to providing their patients with compassionate care 24-hours a day. Pearl is located inside the renowned Fairmont Century Plaza. Learn more about the amenities at Pearl Recovery Retreat.
Pearl provides transportation to its patients immediately after surgery and to post-op appointments at Dr. Azizzadeh's office. At Pearl, you will feel pampered during every step of your recovery process!
Phone: 424.333.5899
Address: 9291 Burton Way, Suite 215, Beverly Hills CA 90210
Website: http://pearlrecoveryretreat.com/
Contact Us For Additional Aftercare Information
If you would like more information about aftercare facilities, please contact our office today – 310-657-2203.