A Closer Look at the History of BOTOX®
BOTOX® is produced by the bacterium clostridium botulinum, and it has been studied extensively for more than three decades.
The U.S. Food and Drug Administration (FDA) approved BOTOX® for therapeutic use in 1989. It initially approved OnabotulinumtoxinA, which was later rebranded as BOTOX®. Expanded research was conducted in the years following FDA approval of BOTOX®, including studies to determine if the injectable could be used to treat severe frown lines.
In 2002, BOTOX® was FDA-approved as a temporary aesthetic treatment for people coping with moderate to severe frown lines. BOTOX® also became the first FDA-approved cosmetic treatment for crow's feet and forehead lines.
BOTOX® today is approved for use in 98 countries, with more than 100 million vials sold in the United States since 2002. Additionally, BOTOX® research is ongoing, and at least 528 peer-reviewed scientific and medical journals have published articles about the use of the injectable to help patients dealing with a wide range of medical conditions.
What is BOTOX?
BOTOX® is the most popular non-invasive non-surgical cosmetic procedure, with over millions of people worldwide receiving BOTOX® treatments annually. BOTOX® is an injectable prescription used to temporarily smooth fine lines, wrinkles and furrows caused by excessive muscle movements. It works by reducing muscle contractions in the treated area. It is administered in a matter of minutes, through a series of small subcutaneous injections. The injections themselves are generally pain free and very tolerable. After BOTOX® injections, you can return to your normal activities with no down time. In some cases, you may feel a slight tingling or soreness in the area, for a short time, but there should be no serious pain or other side effects. The effects of your BOTOX® injections will take a few days to become visible, and will last for up to 4 months.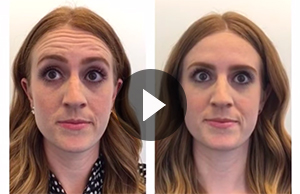 At the CENTER for Advanced Facial Plastic Surgery, Dr. Azizzadeh performs all BOTOX® injections himself. As a double board certified plastic and reconstructive ic surgeon with head and neck surgery expertise, Dr. Azizzadeh has great insight into not only facial aesthetics, but also into the anatomy of the facial muscles. This specialized knowledge allows him to precisely place a very specific amount of BOTOX® to give patients naturally beautiful results.
Although BOTOX® is the most common non-surgical cosmetic procedure, it is still of utmost importance that you trust your BOTOX® treatment to a qualified expert, like Dr. Azizzadeh.
What is BOTOX Used For?
There are dynamic wrinkles all over the face. When we smile, frown, raise our eyebrows or squint our eyes, wrinkles are created as a result of those repetitive expressions. Over time, these wrinkles start to become ingrained in the skin, appearing even when one's face is completely relaxed. BOTOX® is the go-to treatment to improve the appearance of moderate to severe lines and wrinkles on the face, resulting in smoother, younger looking skin. This is a good alternative to a facelift for patients who don't want or don't need surgery or for those who wish to seek preventative treatment.
While BOTOX® is best known for its cosmetic results, Dr. Azizzadeh can also utilize it for many other treatments. Below are some examples of how BOTOX® can be used for both cosmetic and non-cosmetic purposes.
Cosmetic Uses of BOTOX®
BOTOX® is most commonly used to treat the following cosmetic concerns:
Crows feet
Frown lines (between the brows, also known as 11 lines)
Bunny lines (wrinkles on top of your nose)
Forehead creases
Eyebrow lift
Gummy smile
Non-Cosmetic Uses of BOTOX®
Excessive Underarm Sweating
Facial Paralysis and Synkinesis
Masseter Hypertrophy
Underarm Sweating / Hyperhidrosis
BOTOX® can treat severe underarm sweating (hyperhidrosis) when medicines used on the skin (topical) do not deliver adequate results. It is intended for individuals 18 years of age and older and has been clinically proven to help patients alleviate the symptoms of severe underarm sweating.
In a clinical study of 322 patients, the average duration for response for patients who received BOTOX® to treat severe underarm sweating was 201 days, or approximately seven months. Additionally, 55% of patients achieved an effective response to severe underarm sweating with BOTOX®, and 81% reported a greater than 50% reduction in sweating versus those who did not receive BOTOX® treatments.
Patients who suffer from hyperhidrosis (excessive sweating) can find relief through BOTOX®. When performed by Dr. Azizzadeh, BOTOX® treatments have been proven to reduce sweating in the underarms.
Facial Paralysis and Synkinesis
As an expert in the facial nerve, Dr. Azizzadeh uses BOTOX® for a unique purpose: the treatment of facial paralysis, Bell's palsy and synkinesis. Patients with Bell's palsy, synkinesis or facial spasms can find relief with targeted BOTOX® therapy administered by Dr. Azizzadeh. Because facial paralysis usually affects only one side of the face, BOTOX® is further used to create balance and symmetry during facial expressions.
BOTOX® is a safe, effective and proven treatment for facial paralysis. It helps individuals minimize the effects of Bell's palsy, partial facial paralysis and synkinesis. Also, BOTOX® helps stop unwanted muscle movements in the face, prevent the muscles in the face from contracting and reduce muscle tension in facial areas that are hyperactive due to synkinesis.
With BOTOX®, a patient can address asymmetric facial movement with a non-surgical treatment. BOTOX® helps reduce the signs of facial paralysis and may be administered in conjunction with neuromuscular retraining (NMR) or selective neurolysis.
In many instances, NMR will be used at the same time as BOTOX® treatments for facial paralysis. NMR involves the use of exercises and stretches to teach and retrain the brain how to effectively coordinate facial muscle movements. It should only be instructed by an expert physical therapist who will perform a patient evaluation and develop a personalized treatment program based on the patient's condition.
Selective neurolysis also may be recommended by Dr. Azizzadeh in conjunction with BOTOX® for facial paralysis. It is an advanced surgical option that involves releasing the platysma muscle to reduce nerve activity among nerves that counteract the smile mechanism. Upon successful completion of selective neurolysis, a patient's face will be more symmetrical and they will have more natural facial expressions, including a smile with more teeth showing.
Masseter Hypertrophy
The masseter is the primary jaw muscle. In some patients, this muscle can become overly large, resulting in a jawline that is too square or angular. BOTOX® can be used to reduce masseter activity, restoring a heart shape to the face.
BOTOX® helps prevent acetylcholine release from nerve terminals at the neuromuscular junction, thereby limiting muscle contraction. It has been shown to help reduce pain, and as such, has been used for many neuromuscular applications.
Research indicates BOTOX® can help treat masseter muscle hypertrophy and lower face contouring. BOTOX® offers a non-surgical treatment to "de-bulk" the masseter muscles and reduce the width of the lower face, resulting in a more balanced and symmetrical face.
Comprehensive BOTOX® Consultation Process
In order to help you get the most out of your BOTOX treatment, Dr. Azizzadeh performs a thorough consultation to discover your cosmetic and/or functional goals. As an internationally renowned facial and plastic reconstructive surgeon, his highest priority is helping his patients get the results they desire.
Dr. Azizzadeh's top priority is to help his patients get the results they desire, and he takes plenty of time to ensure that his patients fully understand their treatment options during their consultation. He will ask patients to look up and scrunch their forehead and make various facial expressions, so he can see how the patient's facial muscles move and the strength of those muscles. After evaluating the patient's facial movements and aging process, he can determine the appropriate BOTOX® treatment plan.
He also takes the time to educate his patients on the underlying causes of their cosmetic complaints, like how wrinkles can result from a combination of factors, and how different types of wrinkles or folds can be erased or smoothed out by different treatments, not just BOTOX.
In the complex field of facial plastic surgery, knowledge is the most important thing for a patient, and that is Dr. Azizzadeh's primary goal. From there, he knows that you will make the right decision for yourself.
Dr. Azizzadeh's BOTOX® Philosophy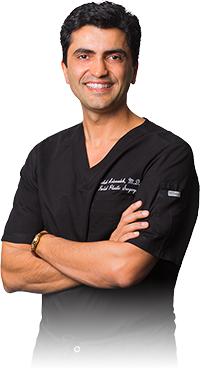 Dr. Azizzadeh has comprehensive BOTOX® expertise, and he takes an extraordinarily detailed approach to this injectable treatment. He believes there is no such thing as a standard application and customizes each BOTOX® treatment to the needs of the patient. Dr. Azizzadeh also examines every aspect of his patient's face, carefully taking note of each cosmetic issue.
It is Dr. Azizzadeh's goal to help his patient maintain their natural beauty. Therefore, during treatment with BOTOX®, Dr. Azizzadeh is able to precisely address facial features and erase wrinkles, preserving his patient's natural facial contours and capacity for expression.
In many cases, to achieve a well-balanced facial aesthetic, Dr. Azizzadeh will recommend pairing BOTOX® injections with fillers (Juvederm, Voluma and/or Scultpra), Ulthera, laser, chemical peels or skincare treatments. Each of these treatments serves a different purpose and when used in combination with each other, can maximize a patient's outcomes. If you are interested in learning more about all non-invasive anti-aging treatments, be sure to ask Dr. Azizzadeh during your consultation.
Pre-Treatment Guidelines Before BOTOX®
Dr. Azizzadeh may request patients stop using the following medications at least seven days before a BOTOX treatment:
Aspirin
Ibuprofen (Motrin, Advil, Aleve)
St. John's Wort
Omega 3 fatty acids
Vitamin E
Ginger
Ginko
Bilboa
Ginseng
Also, if you have a history of cold sores, ask us about pre-care instructions.
Post-Treatment Guidelines After BOTOX®
Side Effects
The intensity and duration of your side effects depends on the treatment aggressiveness and your individual healing characteristics, but usually can last up to a week after treatment.
Stinging: Some patients develop stinging at the injection site for 10-15 minutes following treatment
Swelling, Tenderness: Some patients experience some swelling or tenderness at the injection site. It should resolve on its own within a few days.
Redness: You may apply makeup immediately after treatment to minimize the redness.
After BOTOX Treatment Skin Care
Sunscreen: Proper and frequent application of sunscreen is always important. The sunscreen should offer broadband protection (UVA and UVB) and have a sun protection factor (SPF) of 30 or more. You should apply sunscreen 20 minutes before going outside, and again, immediately before. After that, reapply your sunscreen every 2 hours. If direct sun exposure is necessary, wear a hat and clothing that covers the treated area. Use this regimen during the healing period and always. For more skincare tips, check out our blog.
Avoid Excessive Sun and Heat: Until any initial swelling and redness has resolved. This includes aggressive exercise.
BOTOX FAQ
How does BOTOX® work?
BOTOX® injections stop nerve signals from reaching muscles in the face. In doing so, they prevent the facial skin from contracting, lowering a person's risk of forming forehead lines, crow's feet and other visible signs of aging in the face.
How long does it take for BOTOX® to work?
Although a  procedure usually requires just minutes to complete, the full effects of BOTOX® injections typically become visible within about two weeks of treatment.
How long does a BOTOX® treatment last?
A treatment generally delivers results that remain visible for about three to four months, but results vary based on the amount of BOTOX® injected into a patient's skin and the patient's response to treatment. In some instances, a BOTOX treatment lasts up to six months.
Will my facial expressions continue to look natural following a treatment?
The goal of BOTOX® is to help an individual achieve a balanced, natural-looking facial appearance. Following a successful BOTOX® procedure, an individual should be able to naturally produce facial expressions. That way, an individual can enjoy a rejuvenated facial appearance – without having to worry about how he or she looks when smiling, frowning or making other facial expressions.
Are there any side effects associated with BOTOX® ?
Some of the side effects include:
Headaches
Bruising
Swelling
Drooping skin
Dr. Azizzadeh outlines the risks associated with BOTOX® prior to treatment. He helps an individual evaluate the benefits and risks of BOTOX® and determine if the procedure can deliver the desired facial rejuvenation results.

Are BOTOX® and other muscle relaxants safe?
BOTOX® and other muscle relaxants may benefit those who are dealing with medical conditions that cause the muscles to become overactive. But, to determine if BOTOX® is safe for a patient, it is crucial to meet with Dr. Azizzadeh. This allows Dr. Azizzadeh to perform an in-depth analysis to determine if BOTOX® injections are safe.
If Dr. Azizzadeh believes BOTOX® is beneficial for a patient, he crafts a custom treatment plan designed to safely and effectively deliver the desired treatment results. Or, if a patient does not qualify for BOTOX®, Dr. Azizzadeh shares information about treatment alternatives.
Are BOTOX® treatment results permanent?
BOTOX® delivers temporary facial rejuvenation results. Thus, those who are looking for a permanent facial rejuvenation treatment may need to look beyond BOTOX® to accomplish their goals.
In addition to BOTOX® , Dr. Azizzadeh offers a variety of long-term facial rejuvenation procedures, including face reshaping surgery. Dr. Azizzadeh is happy to teach patients about BOTOX® and other facial rejuvenation treatments as well.
Trust Your Face to a BOTOX® Expert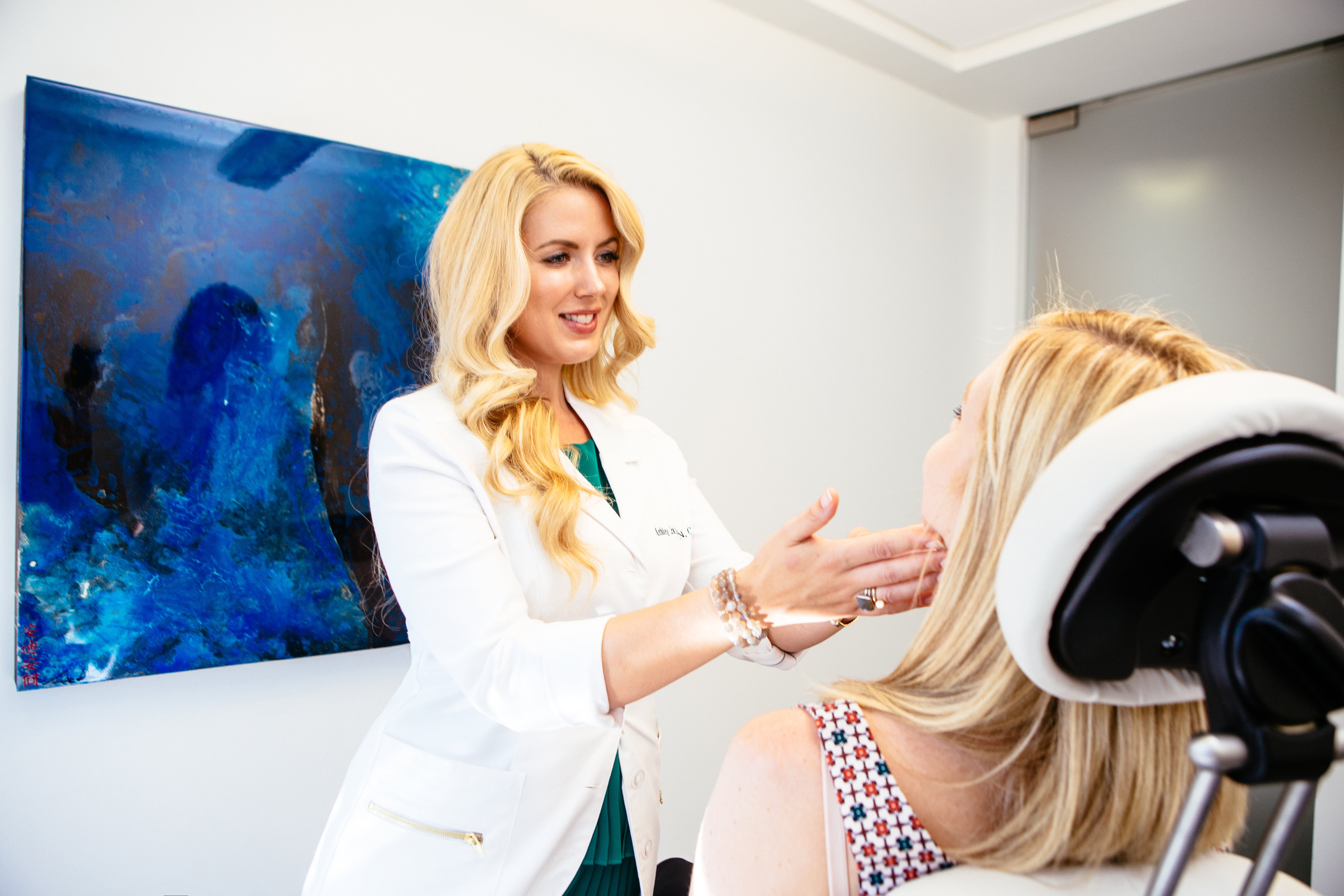 There is no shortage of facial plastic surgeons who can perform BOTOX®, but Dr. Azizzadeh possesses experience and skills unmatched by other surgeons. He is world-renowned for his facial plastic and reconstructive surgery expertise and has been featured by major news outlets and contributed some of the industry's definitive medical textbooks. Plus, Dr. Azizzadeh is the co-director of the annual Cedars-Sinai Advances in Multi specialty Aesthetic and Reconstructive Surgery Symposium.