Dr. Azizzadeh & Mary Jo Buttafuoco on Oprah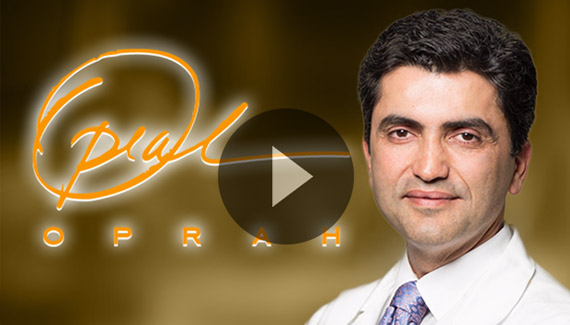 In 1992, the shooting of Mary Jo Buttafuoco shocked the world. Miraculously, Mary Jo not only survived, she thrived. In 2006, she underwent a facial reanimation procedure with Dr. Azizzadeh. This surgery involved a facelift and eyelift along with static suspension to correct facial paralysis. Following this complex reconstructive procedure, Dr. Azizzadeh and Mary Jo were featured on Oprah. During their segment, Oprah reviewed Mary Jo's emotional journey, paying no small mind to Dr. Azizzadeh's astonishing role in her continued recovery.
Dr. Azizzadeh on KFI AM 640
Tune in to KFI AM 640 every Friday morning to hear Dr. Azizzadeh on the La Peer Health Minute segment. Dr. Azizzadeh provides listeners with a wide variety of health and wellness tips and recommendations.
Cosmetic Eyelid Surgery
Eyelid skin is the most sensitive skin on a person's body. That's why your eyes are usually the first part of the body to show signs of aging and can be effectively addressed by cosmetic or reconstructive surgery. Patients undergo eyelid surgery – such as blepharoplasty – to achieve a more youthful appearance, or corrective surgery to repair eyelid trauma including Eyelid Malposition, Retraction, and Tumors including Basal Cell Caricinoma. An oculoplastic surgeon can help you understand which type of surgery best suits your needs, be it cosmetic or reconstructive.
---
Plastic Surgery Is No Longer Just For Celebrities
Plastic surgery is no longer just for actors on the big screen, but also for audiences too. Cosmetic enchantments are now acceptable and accessible to virtually anyone. Outpatient and minimally invasive techniques makes procedures such as BOTOX, nose jobs, facelifts and breast enchantments safer with less downtime. But is plastic surgery right for you? Begin by examining your motivations for cosmetic surgery and to explore with your surgeon whether your goals are attainable. Also research your plastic surgeon to ensure they have the experience, expertise and communication skills to deliver the best possible outcome.
---
Male Facial Plastic Surgery
As we wrap up Men's Health Month, we turn our attention to self-image among males. The number of men seeking solutions to their aging concerns is dramatically increasing. It's now commonplace for men in all walks of life to maintain their looks and preserve a youthful image. As technologies continue to advance, male surgical options have greatly expanded. Male neck lift surgery can reshape areas such as jaw lines and turkey necks. Eyelid surgery can be utilized to remove the excess hooding and bags under the eyes resulting in a more youthful and well rested appearance. Men can also take advantage of nonsurgical treatments such as Botox, Fillers, laser resurfacing and skin-tightening procedures, including Ulthera. The most important objective in male facial rejuvenation is attaining natural results.
---
Facial Paralysis & Bell's Palsy
The #1 cause of facial paralysis in the United States is Bell's palsy. Bell's palsy is thought to be caused by a virus, but one must ensure that there is not an associated tumor, trauma or salivary gland inflammation. For patients with Bell's palsy, a complete neurologic and ear, nose, throat evaluation should be done immediately. High dose steroids, anti-viral medications, physical therapy and Botox are effective treatments. Bell's palsy patients may also be candidates for an out-patient procedure called selective neurolysis with re-routing that helps strengthen facial nerves and weak smile muscles. Should facial paralysis develop, there is hope to restore facial symmetry, improve one's appearance and the patient's ability to smile.
---
Summer Skin Care & Skin Cancer Prevention Tips
Summer is here – the time of year to hit the beach or the pool for that California tan. However, exposure to UV radiation from the sun is the number-one cause of skin cancer. There are three types of skin cancer – basal cell carcinomas, squamous cell carcinomas and melanomas. Usually diagnosed by performing a biopsy, skin cancer treatments vary according to the specific type, size and location. Although anyone can get skin cancer, the risk is greatest for people who have fair or freckled skin that burns easily. Protect yourself from the sun by applying sunscreen that offer UVA and UVB protection, selecting clothes and cosmetic products that also offer UV protection, wearing sunglasses with polarized lenses and avoiding direct sun exposure during peak UV radiation hours.
---
Treatment for Hyperhidrosis - Excessive Sweating
Sweaty palms is a medical condition known as palmer hyperhidrosis. Sweating is the body's way to regulate its temperature but people with palmar hyperhidrosis experience excessive sweating in their hands even when the body should not. The result can cause discomfort and embarrassment in everyday activity and even disqualify people from certain jobs. Although psychological reasons such as stress can be factors in sweaty palms, typically the underlying cause of palmer hyperhidrosis is physiological – resulting from an overactive sympathetic nervous system which manages numerous functions in the body. The good news is that there are solutions including Botox and surgery to end sweaty palms where patients can resume normal activities within a short time.