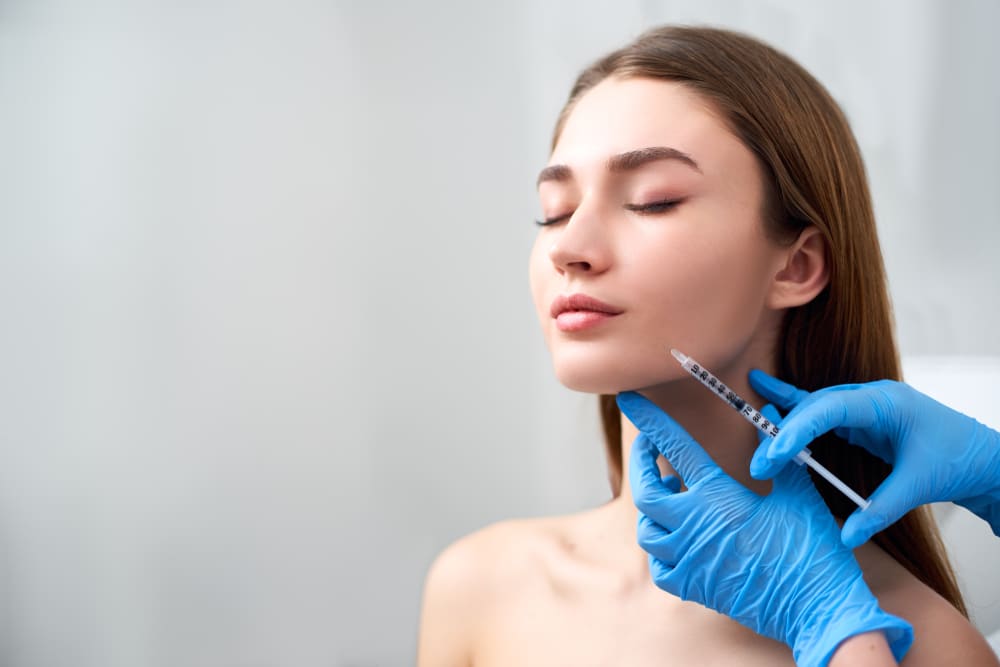 Types of Dermal Fillers
There is an old adage that "time is undefeated". No matter what is done or what action is taken, it is impossible to stop the slow crawl of time. This can be felt most strongly while looking in a mirror, as the face that looks out from that reflective glass bears only a passing resemblance to the once vibrant and youthful appearance of day's past. While nothing can defeat time, there are treatments that can turn back the clock on an individual's appearance.
Dermal fillers are a great way to reduce signs of aging, rejuvenating and revitalizing a patient's facial appearance. While many refer to "dermal fillers" as a blanket statement that can cover all injectable cosmetic treatments, there are actually many different types of dermal fillers that are all uniquely formulated to treat specific signs of aging.
Dr. Babak Azizzadeh is a leading facial plastic surgeon who uses his expertise to help patients determine which types of fillers will best achieve their goals. While it is not realistic to expect patients to be able to successfully differentiate between all of the types of dermal fillers, it is a good idea to at least have some understanding of the differences between fillers. That way, during a consultation with Dr. Azizzadeh the patient can be kept in the loop and help make an informed decision. Below, patients can learn about the most popular and commonly used types of fillers, as well as the benefits each dermal filler offers.
Juvederm Voluma
Voluma is one of the many Juvederm fillers currently available to patients, all of which can revitalize a patient's appearance. Voluma, also known as Voluma XC, is an injectable gel that replaces lost volume in the cheeks and midfacial region.
As an individual gets older, they lose youthful volume from various areas of the face, with volume lost being especially pronounced around the cheeks. This volume loss can make what were once perky and vibrant cheeks look flat and saggy, detracting from an individual's natural beauty.
A Juvederm Voluma injection adds volume to the cheek area, providing sagging cheeks with a needed lift. Not only does this dermal filler add a needed contour to the cheeks, but the added volume also results in the smoothing of wrinkles and folds in the midface region.
Juvederm XC
Juvederm XC is a dermal filler that specializes in addressing moderate to severe wrinkles and folds, smoothing out a patient's skin and optimizing their appearance. Juvederm XC injections are particularly effective when it comes to addressing wrinkles around the mouth and nose.
Wrinkles around the nose and mouth are called nasolabial folds, but they are most commonly known as "smile lines" or "laugh lines". These are the lines that run from the outside of the nose down to the corners of the mouth, and they are usually a result of decades of making facial expressions combined with the normal loss of volume that comes with age.
Juvederm XC injections add back some of that lost volume, plumping up the skin near the nasolabial folds. This added volume will result in smoother skin, and regular Juvederm XC treatment can reduce the appearance of or even eradicate smile lines.
Juvederm Ultra Plus
Juvederm Ultra Plus, also known as Juvederm Ultra XC, is a dermal filler that can treat patients who have thinning lips. Even if the patient's lips are not thinning, Juvederm Ultra Plus can provide individuals with their ideal full and plump lips.
This dermal filler does a great job of enhancing the lips, but it can also be used to treat wrinkles and folds around the lips. Patients with nasolabial folds can add volume to the underlying facial tissue in that region, resulting in a smoother and more youthful appearance.
Restylane
Restylane is the name of a line different types of dermal fillers that can revitalize a patient's appearance. Some of the most common types of Restylane injectables include Restylane Silk, Restylane Lyft, Restylane Refyne, and Restylane Defyne. While each of these different Restylane products offers varying results, all Restylane dermal fillers offer a great way to reduce visible signs of aging.
Restylane can be used to address wrinkles and lines on the forehead. Also called furrows or "frown lines", these creases are the result of repeated tension in the forehead, usually as a result of feeling angry, worried, excited, or puzzled. These frown lines can make an individual look like they are permanently perturbed, and Restylane will soften a patient's appearance.
Restylane can also be used to treat any damage found on the surface of the skin, including pitting and scarring. Pitting refers to an indentation in the skin, usually caused by swelling, while scarring can refer to a variety of different scars, including scars from being burnt, acne scars, or other types of scars. A Restylane injection to any of these types of skin damage significantly reduces the appearance of the damage.
Finally, Restylane can also address volume loss in the lips. Similar to Juvederm Ultra Plus, Restylane injections plumps up the lips, softening any wrinkles or fine lines. As a result, patients will leave their treatment with youthful and beautiful lips.
Radiesse
Radiesse is one of the most versatile types of fillers, as it is a spectacular way to treat any signs of aging present in the lower face region. Regardless of whether wrinkles are a problem around the mouth, near the nose, or on the chin, Radiesse can drastically revitalize the lower face.
A loss of volume and the natural aging process can cause a variety of lower face problems. Smile lines that go from the nose to the mouth, marionette lines below the lips, sagging skin along the jawline, wrinkles on the corners of the mouth, and chin wrinkles are all common problems that Radiesse can address. Radiesse resolves these issues by adding volume to the lower face that then smooths out wrinkles and fine lines.
Radiesse does not just provide immediate results, but also long-term benefits. Radiesse adds volume in the form of the injectable gel, but it also stimulates the body's natural collagen production. Collagen is a protein that makes the skin look youthful and vibrant, but as an individual gets older, their collagen production levels go down. Radiesse jumpstarts collagen production, leading to lasting results.
Sculptra
Sculptra is another of the many great types of dermal fillers that can restore lost facial volume and stimulate collagen production. Sculptra injections add needed volume to the face that has been lost over time, resulting in less visible wrinkles, facial folds, and other troublesome signs of aging.
Sculptra is usually used to treat the same areas as Radiesse, including chin wrinkles, marionette lines, smile lines, and sagging jowls. Sculptra is also effective in adding volume to hollow temples that have become sunken over time.
Juvederm Volbella
Get lips to die for with Juvederm Volbella. This dermal filler gives patients plump and natural-looking lips, treating signs of aging both on the lips and in the areas surrounding the lips. Juvederm Ultra Plus is a gel that is injected directly into and around the lips, leaving the patient's lips looking full and reducing the appearance of lines and wrinkles in the region.
Part of the volume loss that comes with age means losing those plump, full lips. As the lips lose volume over time, individuals may also notice the development of perioral lines, also known as "lipstick lines". This is the name for the small, vertical lines that form on the lips of individuals as they age.
Juvederm Volbella addresses both of these issues, as it restores lost volume to the patient's lips and reduces the appearance of lipstick lines and other wrinkles around the mouth. Treatment with these types of dermal fillers will leave patients with augmented lips that look youthful and natural.
Schedule a Dermal Filler Consultation With Dr. Azizzadeh
The average patient will have a difficult time differentiating between the vast array of types of dermal fillers currently on the market. Even after reading the above descriptions, it can nearly impossible for patients to decide which types of fillers is the best option for their needs. That is why any potential patient needs to schedule a dermal filler consultation with Dr. Azizzadeh.
Dr. Azizzadeh is a double-board certified facial plastic and reconstructive surgeon who is highly sought after by the media for his skillful cosmetic treatments. His experience and expertise are incredibly valuable when it comes to deciding which dermal filler will best let a patient reach their aesthetic goals. To schedule a consultation with Dr. Azizzadeh, please call us today at 310-657-2203.