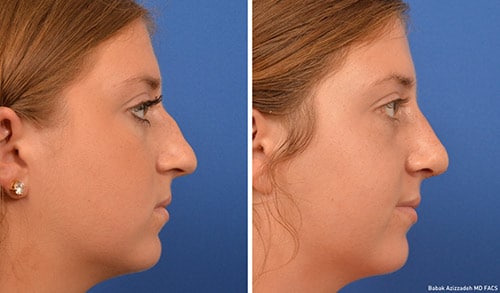 Teenage Rhinoplasty Patient: I cannot thank him enough for what he did...
I am now four weeks post-op and I couldn't be happier with the results! I smile every time I pass a mirror, and my self-confidence has received a much-needed boost. I still haven't gotten used to the feeling of being in public, taking pictures, and engaging in everyday life without worrying about my nose.
Video Testimonial: Rhinoplasty
You should see my face today! I really look great; I am so excited. I never explained this to you before…I was never shy about meeting new people because they never knew me any other way. But seeing people who knew me before Bell's Palsy was so excruciating because there would always be this second where I watched an expression cross their face, like, what happened? It was better if they just came out and asked me if I had a stroke.
Anyway, now I feel my face is so much better, I will never feel that embarrassment again. So there are no words for that. But it is an enormous thing in my life. And I know you probably operate on a lot of gorgeous people who only want to look more gorgeous and I think that's completely legitimate. But believe me, all I ever wanted was to look normal again, and you gave me that. So I will thank God for you every night for the rest of my life before I go to bed. And that is the truth. And I will see you in November for my follow up.
It has been two weeks and two days since my surgery and my face is almost fully recovered. I am back at work now and the feedback from my co-workers is all very positive. My self-esteem has increased tremendously and I feel like I can face the world again. I know that I mentioned this when I left your office to return to Northern California, but there are no words great enough to express my gratitude and awe at your ability as a surgeon. You are the best choice I could have made for my surgery.
Thanks so much Dr. Azizzadeh for the amazing job you did on my nose!! I am thoroughly satisfied with the results and with the care I received at your clinic.
I can't tell you how blessed I feel to have met you and gotten you in my life. I don't know how I got so lucky to have had you bless me with your talent. I of course at this point think of you every day. How could I not, just looking at the mirror and watching the healing process and the transformation take place
You have the biggest heart. I do realize how big of a gift this surgery was. I can't thank you enough for your time, talent, and undying patience with me.
Dr. Azizzadeh, you changed my life. I'm not even completely healed up yet and I am so excited! Dr. Azizzadeh, the first time I met you in person, you were so professional yet so personal. You really do care about your patients and that's what makes you a special Dr. A, you have changed my life and I will NEVER forget you. Thank you for your special care. Your wife and children must be so proud to have a daddy like you. Please continue to do what you are doing and please know you are appreciated
Dr. Azizzadeh, I wanted you to know that your staff is wonderful! I felt like I was in another world or everyone took happy pills because they were all just great! (Thanks Angie for taking my stitches out without me fainting! It was painless! You were great!) . Thanks again to all of you. Your #1 fan
I can't thank you enough for all the caring and support you all have given me these past two months. I have been blessed having you come into my life. My family and I thank you from the bottom of our hearts.
I wanted to write to tell you how much I am enjoying my "new" face and getting the chance to see a more normal "me" again. You erased the burden I've carried with me for seven years of the effects of facial paralysis. The ramifications are many and range from the small, feminine pleasures of putting on lipstick or wearing a necklace to facing each day with happiness and optimism, free of constant self-consciousness and negative memories (from acoustic neuroma). Your skill, artistry, compassion, patience and enthusiasm are greatly appreciated. Thank you for restoring my joy in life.