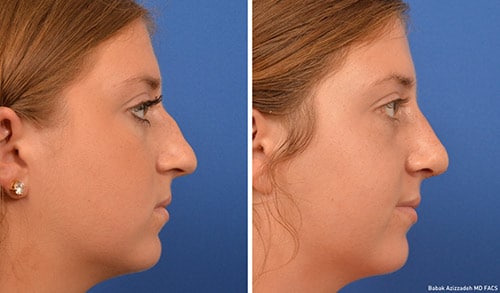 Teenage Rhinoplasty Patient: I cannot thank him enough for what he did...
I am now four weeks post-op and I couldn't be happier with the results! I smile every time I pass a mirror, and my self-confidence has received a much-needed boost. I still haven't gotten used to the feeling of being in public, taking pictures, and engaging in everyday life without worrying about my nose.
Video Testimonial: Rhinoplasty
I keep thinking about you and finally decided to sit down and send a note to tell you (again) how much you've changed my life with the work you did on my face. I am so happy with it, and I just can't thank you enough! A physical therapist was examining my face recently and commented more than once on what a great job you did.
This was my first cosmetic procedure and I am amazed at my transformation. I love the new" me and I am starting to forget the "old" me already! It is amazing how "looking good" can change your entire attitude and outlook on life!
I am sitting here addressing this envelope to you about to start writing in this card when I see you on TV on the Discovery Health Channel. Wow! I am pleasantly surprised! The show segment is featuring your trip to Ecuador. It is highlighting the work you do for children with facial deformities. What a truly special human being you are!! And a kind gentleman. You have helped not only me with my small dog bite but so many others with more severe circumstances. You are one of our angels. I am so grateful to have met you and I am so very appreciative for all that you have done to help me with my lip. I feel so much better about myself and so confident because of you and your expertise. Thank you for your kindness and your generous heart! I adore you for the man you choose to be in this world.
I just had to write again and tell you how thankful I am over the wonderful job you did in surgery. I hope you get similar emails from time to time… When I wake up in the morning, I just wash my face and do my simple routine… I don't think twice anymore. I don't try to lift one side up that seems to be drooping so much – I am so completely grateful I was able to have this surgery. I can't help but think of you when I look at my face and be grateful that you were led to go into this field! Thank you for your excellence!! And strangely enough, I feel I can smile more when I take pictures with my kids. My personality can shine and, though I don't look like I used to with better symmetry, I feel world's better.
I wanted to take the time to write this letter to voice my gratitude to Dr. Azizzadeh, and the entire staff, especially Chloe for all of their help. I now wake up in the morning and smile at my cute new nose. After several years and hours of research, I decided upon Dr. Azizzadeh and flew from Rhode Island to have this done by him. My friends could not understand me flying across the country to have Rhinoplasty and Septoplasty done. They felt that there are very good surgeons in NYC and Boston. After years of research and several consultations, I was at ease with my decision to go ahead with the procedure. I am very selective and with all that I had learned about the risks, I know that Dr. Azizzadeh was the right decision.
Dr. Azizzadeh is an amazing doctor and I could not have asked for a better experience. He expressed genuine and made this very difficult decision so easy and comfortable for me. Dr. Azizzadeh calmed my every fear and personally spoke with me on several occasions, he always made time for me.
I truly appreciate the care and patience displayed by Dr. Azizzadeh and Chloe. It was a pleasure to talk to Chloe who guided me through every step of the process.
The end result was exactly what I wanted! My confidence and self-esteem have risen and I feel much happier now.
It took a lot of time for me to build up the courage to go through with this and looking back, my only regret is that I hade not done it sooner. Dr. Azizzadeh is an amazingly gifted surgeon who genuinely cares about people. I will always be grateful, you have changed my life!