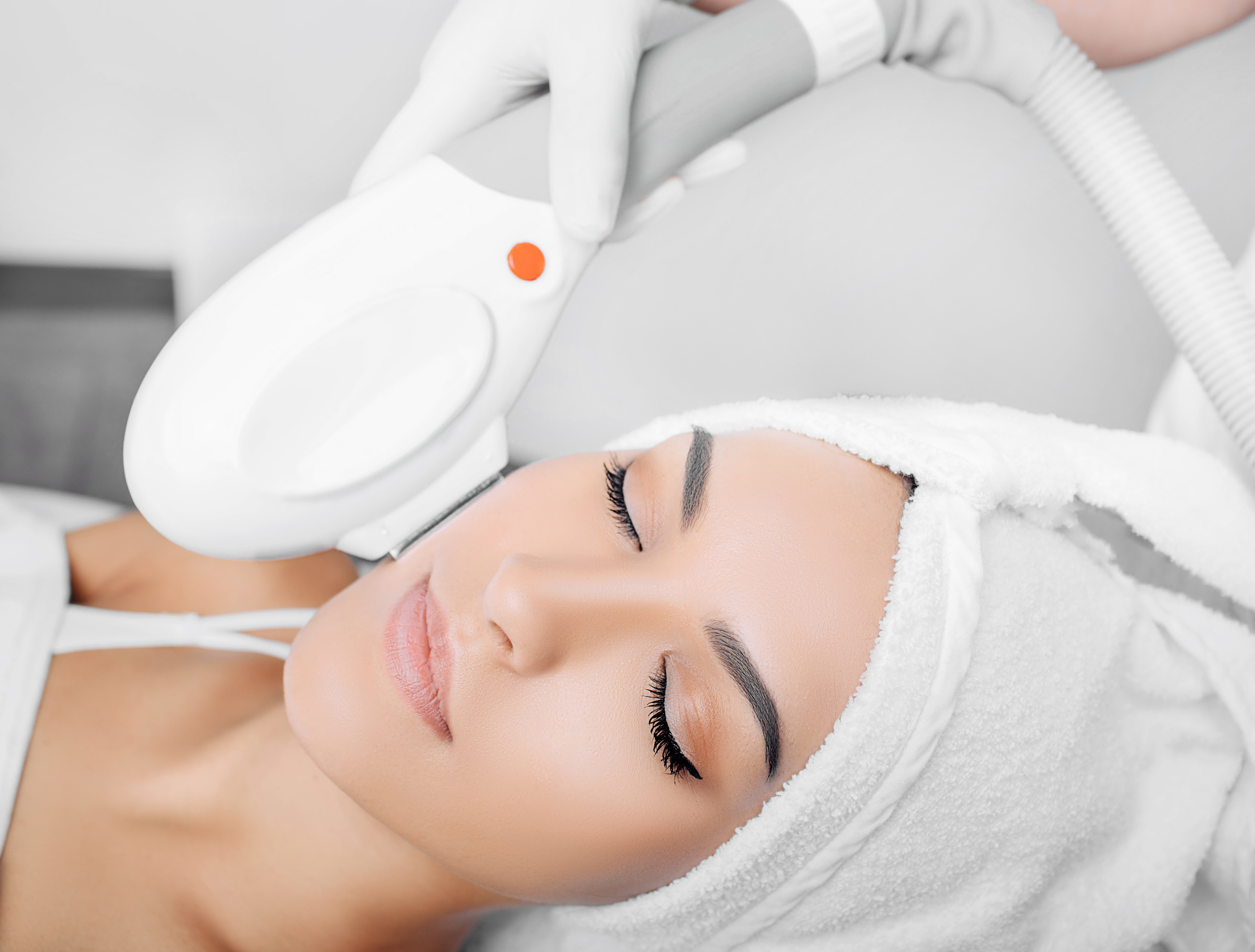 Best Treatments for Melasma on the Face
Melasma is a pigmentation disorder that causes brown to grey-brown patches to form on the skin. Most melasma patients experience skin discoloration on the cheeks, forehead, chin, nose and above the upper lip. In certain instances, people experience melasma symptoms on the forearms, neck and other parts of the body.
Melasma is a common skin problem for women and men, and melasma causes include:
Excess Sun Exposure: The sun's ultraviolet (UV) rays affect cells that control pigment, and if a person spends too much time in the sun, he or she is susceptible to melasma.
Hormones: Research indicates that fluctuations in certain hormones can cause melasma; the condition has also been linked to the use of birth control pills or hormone replacement therapy.
Skin Color: Research shows that people with darker skin are more prone than others to melasma.
Skincare Products: A skincare product that irritates a person's skin may cause melasma.
If an individual believes he or she is dealing with melasma, there is no need to wait to address the problem. In this instance, an individual can meet with Dr. Babak Azizzadeh of the CENTER for Advanced Facial Plastic Surgery to receive an expert melasma treatment recommendation.
Melasma Treatments: Here's What You Need to Know
Common melasma treatments include:
1. Retinol for Melasma
Retinol is a vitamin A derivative that promotes skin renewal, treats acne and boosts production of collagen, a protein that supports skin elasticity. It is available as a non-prescription topical treatment for melasma and accelerates the body's natural cell turnover process. In doing so, retinol helps eliminate dark patches on the skin much faster than they would heal on their own.
In addition to retinol, bleaching agents that contain hydroquinone may be used to treat melasma. Hydroquinone stops the process that causes skin discoloration, and it is often used to lighten the skin. It may also be used to treat areas of the skin that are more sensitive to the sun.
Although retinol and bleaching agents to correct melasma are often sold over the counter, consulting with Dr. Azizzadeh prior to using these medications is key. Dr. Azizzadeh strives to provide a patient with a safe, effective treatment tailored to his or her melasma symptoms. He meets with a patient to understand his or her melasma symptoms, then offers a personalized treatment recommendation. Finally, Dr. Azizzadeh monitors his patient's progress throughout melasma treatment to ensure that this individual can address his or her melasma symptoms.
 2. Melasma Laser Treatment
Laser skin resurfacing provides a non-surgical melasma treatment, and it helps melasma patients improve skin tone, texture and pigmentation. During a laser skin resurfacing procedure, DOT Deka lasers are used to apply controlled energy to discolored portions of a melasma patient's skin. Additionally, laser skin resurfacing helps a melasma patient tighten the skin and reduce pore size.
Downtime associated with melasma laser treatment is minimal; in most instances, patients only need about seven to 10 days to recover. Dr. Azizzadeh provides his patients with comprehensive instructions to streamline the laser skin resurfacing recovery process and limit the risk of post-treatment complications. This ensures that a melasma patient can reap the full benefits of laser skin resurfacing.
The results of laser skin resurfacing typically last up to five years. Dr. Azizzadeh provides skincare tips to help patients avoid recurring melasma following laser skin resurfacing. He is also available to respond to a patient's concerns or questions at any point during laser skin resurfacing recovery.
 3. Microneedling for Melasma
Microneedling involves the use of tiny needles to stimulate collagen growth, and it promotes the growth of elastin, a protein that supports skin elasticity and resilience. The non-surgical procedure repairs the skin via the creation of microscopic channels, and it enables platelet-rich plasma and skincare products to reach the deepest layers of the skin to deliver maximum results.
During a microneedling procedure, tiny, precisely spaced needles are used to create micro-punctures in the skin, and each micro-puncture activates the skin's natural cell regeneration properties. As a result, microneedling helps melasma patients treat skin discoloration, as well as lift, tighten and revitalize the skin.
Microneedling is a versatile procedure, and it can be used to treat the face, neck, arms, hands and other areas of the body. On average, it takes about 30 minutes to perform a microneedling procedure, and an entire microneedling appointment with Dr. Azizzadeh may require about 90 minutes. Once a microneedling appointment is complete, microneedling recovery usually takes about two to four days to complete, with some patients fully healing within 24 hours of treatment.
 4. Skincare Products
For people who are searching for a melasma on face treatment, skincare products are available to treat sun-damaged skin. These products often contain kojic acid that exfoliates discolored skin, along with hydroquinone.
Certain skincare feature specialized formulas designed to limit the impact of sun exposure and environmental pollutants. As a result, these skincare products help individuals address melasma in its earliest stages.
Dr. Azizzadeh provides ZO Skin Health products that can be incorporated into a daily skincare routine. Not all skincare products deliver the same results for each person, and a skincare regimen must be tailored to an individual. If Dr. Azizzadeh believes ZO Skin Health products can help a patient correct melasma or other skin issues, he will provide a personalized recommendation to ensure that his patient can get the best results from his or her skincare regimen.
5. Chemical Peel
A chemical peel involves a chemical solution that is applied to the skin and causes the skin to exfoliate and peel off. It is used to treat melasma and reduces the appearance of wrinkles and other skin problems.
There are three types of chemical peels:
Superficial: Involves a mild acid that penetrates the outer layer of the skin to correct skin discoloration and rough skin.
Medium: Involves a glycolic or trichloroacetic acid to treat the outer and middle layers of the skin, remove damaged skin cells and treat fine lines, wrinkles and other visible signs of aging.
Deep: Involves trichloroacetic acid or phenol to remove damaged skin cells from the middle layer of the skin.
A deep chemical peel tends to produce more dramatic results relative to its medium and superficial counterparts. Also, a deep chemical peel generally delivers results that last longer than other types of chemical peels.
In addition to the aforementioned treatments, there are many ways that an individual can avoid melasma triggers, such as:
Limit Sun Exposure: Excess sun exposure increases the risk of melasma; therefore, it is crucial to limit the amount of time spent in direct sunlight whenever possible.
Apply Sunscreen: Wearing sunscreen every day is a great way to prevent melasma. Using a sunscreen with broad-spectrum protection is beneficial, and sunscreen should be reapplied at least every two hours.
Wear Protective Clothing: A wide-brimmed hat and layered clothing help protect the skin against excess UV radiation that otherwise causes melasma.
Dr. Azizzadeh understands the dangers associated with melasma, and he works with patients to help them identify and treat this issue. By meeting with Dr. Azizzadeh, an individual can explore various melasma treatments and find out that suits him or her perfectly.
How Does Dr. Azizzadeh Approach Melasma Treatment?
Melasma is typically painless, but the condition affects how a person looks and feels. In some cases, melasma impacts a person's self-confidence. It may also affect a person's ability to maintain a balanced, natural-looking facial appearance.
Dr. Azizzadeh has a simple goal with melasma treatment: to correct melasma so that a patient feels good about his or her facial appearance. To accomplish his goal, Dr. Azizzadeh takes a holistic approach to melasma treatment.
As a world-renowned facial plastic and reconstructive surgeon with extensive melasma treatment experience, Dr. Azizzadeh works closely with his patient to diagnose and treat melasma. Dr. Azizzadeh performs an in-depth assessment of a patient's medical history, and he conducts a physical exam. He then crafts a custom treatment plan for his patient, and this plan is used to help a patient revitalize his or her facial appearance.
Dr. Azizzadeh tracks his patient's progress throughout a melasma treatment program. He responds to his melasma patient's concerns and questions during treatment and ensures that his or her progress stays on track. Lastly, when a patient's recovery from melasma treatment is complete, he or she can enjoy a revitalized facial appearance.
Schedule a Melasma Treatment Consultation with Dr. Azizzadeh Today
Melasma is sometimes difficult to treat, but Dr. Azizzadeh dedicates significant time and resources to develop a personalized treatment plan for each of his melasma patients. To date, Dr. Azizzadeh has helped many patients correct their melasma symptoms, and he continues to explore ways to safely and effectively treat skin problems.
Dr. Azizzadeh is available to discuss treatment options for melasma and other skin issues. To schedule a treatment consultation with Dr. Azizzadeh, please call us today at 310-657-2203.