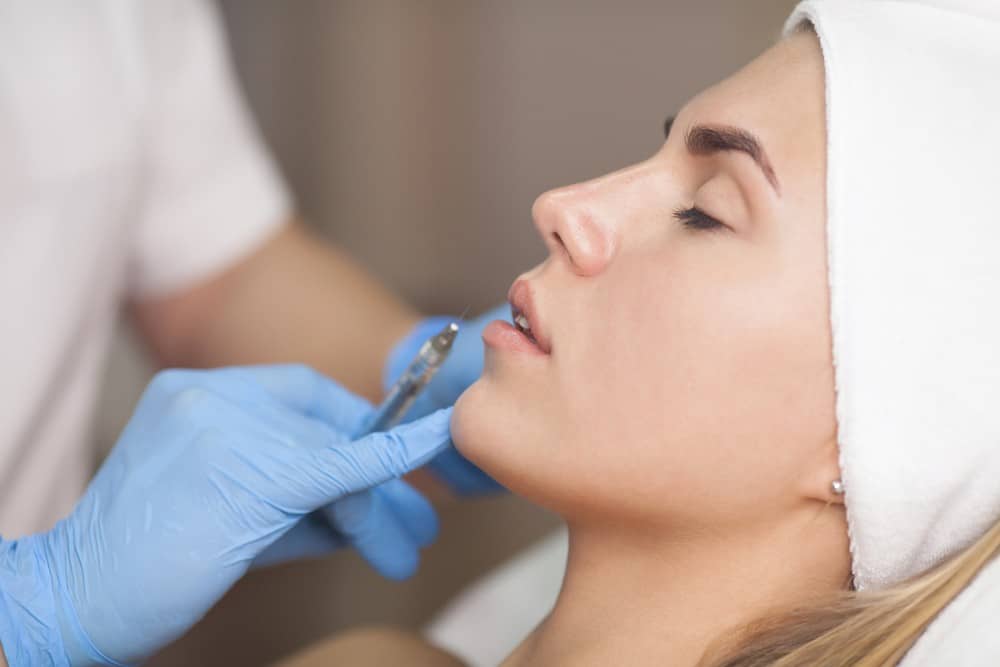 How Long Does Juvederm Last?
Juvederm refers to a collection of dermal fillers that can deliver results that last six months or longer. Yet, the results of a Juvederm treatment vary depending on the patient and the Juvederm product used.
What Is Juvederm?
Juvederm improves volume in different areas of the face. Some patients choose Juvederm to make the lips appear more plump and full. Meanwhile, other patients select Juvederm to smooth fine lines and wrinkles in the face. Patients can undergo Juvederm treatments to lift and contour the cheeks, too.
Juvederm consists of hyaluronic acid, a naturally occurring substance that boosts skin volume. Hyaluronic acid is commonly found in the skin and connective tissue and retains water to moisturize the skin. When taken as a supplement, hyaluronic acid helps the skin retain moisture, thereby reducing the risk of visible signs of aging.
Today, Juvederm is one of the most-effective hyaluronic acid-based dermal fillers on the market. In one study of 119 Juvederm patients, researchers found that Juvederm was effective and well-tolerated to enhance the appearance of the midface. Comparatively, in a study of 146 patients who received Juvederm and Zyplast dermal fillers, researchers found that patients achieved more persistent wrinkle correction with Juvederm at 24 weeks. In this study, researchers also discovered that 88% of patients preferred Juvederm over Zyplast, and 6% had no preference on Juvederm or Zyplast for facial rejuvenation.
How Is Juvederm Used for Facial Rejuvenation?
Juvederm is used to treat the following cosmetic issues in the face:
Sagging Cheeks
As a person gets older, the cheeks can appear flatter and start to sag. This midface volume loss occurs due to the natural aging process.
With Juvederm, people can add volume underneath the cheeks' surface. Juvederm injections can lift and contour the cheeks, resulting in a revitalized facial appearance in which the cheeks complement other facial features.
Facial Lines and Wrinkles
"Parentheses lines" around the mouth and other facial lines and wrinkles can form over time. If left untreated, these visible signs of aging can hamper a person's facial appearance.
Juvederm can be injected into facial tissue where moderate to severe facial lines and wrinkles are present. Once Juvederm is injected into these areas, it can temporarily correct facial lines and wrinkles.
Lips
Lip augmentation is a popular surgical procedure to improve the plumpness and fullness of the lips. This surgery, however, is not ideal for all patients. In the event that an individual wants to rejuvenate the appearance of the lips without surgery or does not qualify for lip augmentation, Juvederm is available.
Juvederm consists of an injectable gel that can be used on the lips. It corrects "lipstick lines" that often form after the age of 21 and smooths the appearance of lines around the lips and mouth.
What Juvederm Products Are Available?
The Juvederm family includes a variety of hyaluronic acid-based dermal fillers, including:
Juvederm Voluma XC: Corrects age-related volume loss in the cheeks.
Juvederm Vollure XC: Treats fine lines and wrinkles in the face.
Juvederm Ultra XC: Plumps and adds fullness to the lips.
The right Juvederm product varies based on the patient. To determine which Juvederm product is the best option, it is important to meet with Dr. Babak Azizzadeh of the CENTER for Advanced Facial Plastic Surgery. In doing so, a patient can learn about Juvederm and other dermal fillers and find out which ones can be used to deliver the best-possible facial rejuvenation results.
Is Juvederm Safe?
Juvederm should not be used if a patient has a history of multiple severe allergies or allergic reactions. It also contains lidocaine, a synthetic compound often used as a local anesthetic to numb pain, and should not be used by patients allergic to lidocaine.
Patients should notify a doctor if they are pregnant or breastfeeding before they undergo a Juvederm treatment. In certain instances, pregnant or breastfeeding patients are ineligible for Juvederm.
Furthermore, patients can experience side effects following Juvederm injections, such as:
Lumps
Bruising
Redness
Pain
Swelling
Itching
Infection
Skin discoloration
In rare instances, Juvederm is inadvertently injected into a patient's blood vessel, which can lead to serious and permanent complications, including:
Stroke
Scarring
Blindness and/or other vision abnormalities
A Juvederm procedure should always be performed by an expert facial plastic and reconstructive surgeon like Dr. Azizzadeh. This ensures a patient receives extensive support from a surgeon who understands the ins and outs of Juvederm and can safely complete the procedure.
Dr. Azizzadeh is a globally recognized facial plastic and reconstructive surgeon with many years of Juvederm treatment experience, and he won't perform a Juvederm procedure unless he deems it safe for a patient. If Dr. Azizzadeh believes Juvederm is too risky, he can recommend alternative dermal filler treatment options.
Juvederm Treatment Alternatives
Facial fillers that are sometimes recommended for use in lieu of Juvederm include:
Restylane
Like Juvederm, Restylane consists of hyaluronic acid and is used to treat facial wrinkles and folds. Restylane can also be used for lip enhancement in patients age 21 and up.
Radiesse
Radiesse simultaneously smooths skin wrinkles and folds and plumps the skin. It can even be used to address nasolabial folds, i.e. creases that stretch from the corner of the nose to the corner of the mouth. 
Belotero
Belotero is a prescription injectable used to correct moderate to severe nasolabial folds. It is sometimes used to treat fine lines around the eyes, too.
Sculptra
Sculptra is an FDA-approved injectable treatment that consists of poly-L-lactic acid, a biodegradable synthetic material. It stimulates the growth of collagen, which provides structural support to the skin. In addition, Sculptra has a high satisfaction rate, with some patients saying they are satisfied with the results of treatment up to 25 months after their last injection.
Along with the aforementioned dermal fillers, Botox is sometimes recommended as an alternative to Juvederm.
Botox is one of the world's most-popular non-invasive cosmetic procedures, and it involves the use of an injectable prescription to reduce excess muscle movement in the face. Botox injections treat facial lines and wrinkles, with results that can last up to four months.
Is Juvederm Right for You?
Juvederm is just one of the non-surgical cosmetic treatments available to patients who want to revitalize the facial appearance. By meeting with Dr. Azizzadeh, a patient can learn about Juvederm and other non-surgical facial rejuvenation procedures. Plus, a patient can receive insights into surgical facial rejuvenation treatments at the same time.
Although a patient sometimes qualifies exclusively for Juvederm, Dr. Azizzadeh can recommend a non-surgical treatment be performed in combination with a facelift, neck lift, or other cosmetic surgery. Dr. Azizzadeh's goal is to help a patient achieve a natural-looking facial appearance, and he conducts a full evaluation to determine if the patient can benefit from non-surgical or surgical cosmetic procedures, or both.
During a patient consultation, Dr. Azizzadeh reviews a patient's facial features and medical history. He also finds out why a patient is considering a facial rejuvenation procedure and examines the patient's treatment goals.
Dr. Azizzadeh next provides a patient with a personalized facial rejuvenation treatment plan. He offers insights into different facial rejuvenation treatments, how they are performed, and their short- and long-term benefits. Dr. Azizzadeh also offers details about facial rejuvenation treatment recovery, costs, and risks.
Ultimately, Dr. Azizzadeh wants a patient to choose a facial rejuvenation treatment that is safe and effective and delivers the ideal results. Dr. Azizzadeh responds to a patient's facial rejuvenation procedure concerns and questions, so the patient knows exactly what to expect during treatment. Finally, if a patient decides to pursue Juvederm or any other facial rejuvenation procedure, Dr. Azizzadeh is ready to help.
Dr. Azizzadeh works with his patient to complete a successful facial rejuvenation treatment plan. He performs the requested facial rejuvenation procedure, then tracks his patient's progress after treatment.
If a patient moves forward with Juvederm or a similar facial rejuvenation option, Dr. Azizzadeh can conduct regular treatments to revitalize the patient's facial appearance. Or, if a patient selects a surgical procedure, Dr. Azizzadeh performs the procedure and tracks the patient's progress throughout recovery. With his approach to facial rejuvenation procedures, Dr. Azizzadeh provides patients with unparalleled support, so they can achieve their treatment goals as quickly as possible.
Schedule a Facial Rejuvenation Treatment Consultation with Dr. Azizzadeh
Deciding between Juvederm and other facial rejuvenation procedures can be challenging, but Dr. Azizzadeh can provide assistance. As a Harvard-trained facial plastic and reconstructive surgeon, Dr. Azizzadeh offers a personalized treatment to help a patient bolster the facial appearance. To learn more or schedule a consultation with Dr. Azizzadeh, please contact us online or call us today at 310-657-2203.