A double chin can be quite disheartening. For some individuals, no matter how perfect their diet is or how hard they push themselves while working out at the gym, that stubborn double chin refuses to go away. For those who are constantly dismayed by the appearance of their double chin, there is a simple and easy way to get rid of that double chin for good. Chin liposuction is an extremely effective procedure that gets rid of fatty tissue and excess fluid under the chin and around the upper neck, eliminating any trace of a double chin. As a result, patients can expect a greatly improved and more toned facial appearance.
Dr. Babak Azizzadeh, a Harvard trained facial plastic surgeon who was featured on the Oprah Winfrey Show for his expertise, frequently performs chin liposuction surgery for patients at his plastic surgery office in Beverly Hills. During a chin liposuction consultation, patients often ask "What can I expect after chin liposuction?", requesting some kind of timeline for recovery and how long to see results from chin liposuction. Below, Dr. Azizzadeh explains what to expect after chin liposuction.
Chin Liposuction Consultation Prior to Surgery
The best way to figure out what to expect after chin liposuction is to schedule a chin liposuction consultation with Dr. Azizzadeh. During a consultation, Dr. Azizzadeh will answer any questions the patient may have, making sure they are fully informed on every step of the treatment process. Patients need to make sure to come to the consultation prepared, performing some prior research so they can ask Dr. Azizzadeh educated and valuable questions.
During a consultation, make sure to ask Dr. Azizzadeh "What can I expect after chin liposuction?" While every individual has a different recovery time, after inspecting the patient's medical history and performing an examination he should be able to provide a somewhat accurate timeline. One of the most important aspects of undergoing successful facial cosmetic surgery is for the patient to have realistic expectations for the procedure, so Dr. Azizzadeh will make sure that the patient fully understands what is to come.
The Chin Liposuction Procedure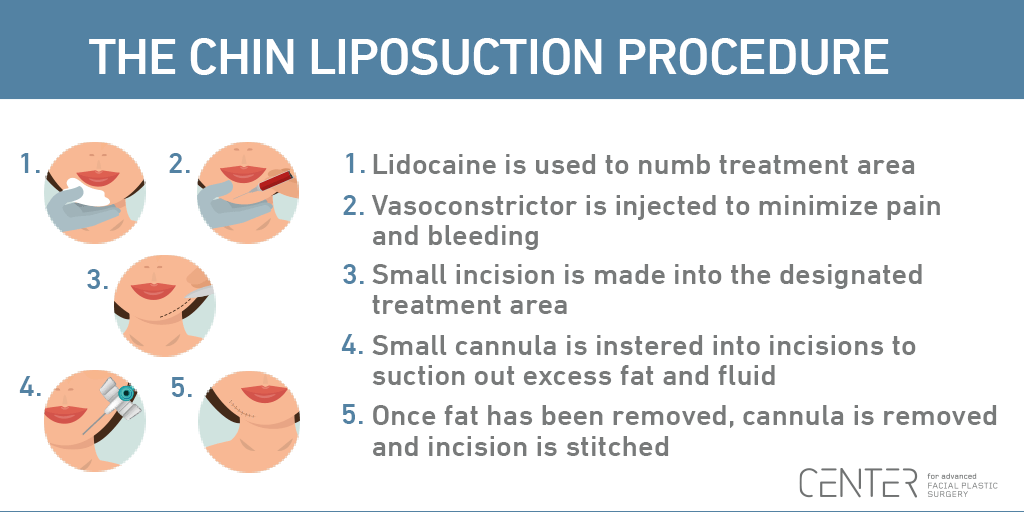 Chin liposuction is an outpatient procedure and a relatively minor surgery. While any surgery may result in patients feeling some discomfort, Dr. Azizzadeh does everything possible to make the surgery and subsequent recovery as pleasant as possible. Some precautions include using lidocaine to numb the treatment area and injecting a vasoconstrictor to minimize pain and bleeding during the procedure.
Chin liposuction begins with Dr. Azizzadeh making a small incision into the designated treatment area, and then he inserts a small cannula into the incisions in order to suction out any excess fat and fluids. Once the fat has been removed, Dr. Azizzadeh removes the cannula and stitches up the incision. The chin liposuction procedure should take somewhere between one and two hours to complete.
What to Expect After Chin Liposuction
Immediately following the procedure, patients should expect bruising and swelling near the incision site and treatment area. This may cause the patient's chin to look even larger than before the surgery, but it is important to remain calm and rational, as the swelling will quickly go down.
There also may be some discomfort, but anything beyond slight discomfort will be treated with medication to help the patient manage the pain. In most cases, any pain or discomfort should subside a few days after the surgery. If a patient is still feeling discomfort a week after chin liposuction surgery, they should contact Dr. Azizzadeh to learn what are the best next steps. For some patients, the incision site may need to be drained to ease the discomfort and swelling.
Following the chin liposuction procedure, patients will also have bandages on the incision sites and a head-wrap to keep sufficient pressure on the chin in order to facilitate the healing process. The head-wrap should keep swelling down, while also making sure that the patient's skin correctly conforms to the contours of their chin. While each patient heals differently, generally patients should expect to wear the head-wrap for up to a week following chin liposuction surgery. During this recovery time, patients are generally advised to avoid going to work for at least a few days and sometimes even a week, as they should be focusing on resting and relaxation.
It is also helpful to try to remain in an upright position and elevated at all times in the days following the procedure. This can help the healing process, and while it can make sleeping difficult, the sacrifice will pay off with a quicker and more successful recovery.
Chin Liposuction After 1 Week
Recovery from chin liposuction after 1 week is mostly complete. After 1 week, the sutures should be removed and most if not all swelling and bruising should have subsided. At this point, patients should be ready to go back to their normal, everyday life, with one notable exception. Strenuous activity and exercise should be avoided for at least a month following chin liposuction surgery, as any vigorous movements can aggregate the healing process.
If there is still visible bruising, patients can use makeup to cover the bruising up, although they should avoid applying any makeup to the incision sites. There may be very minor scars from the incisions, but Dr. Azizzadeh is extremely strategic with where he makes incisions. Dr. Azizzadeh makes chin liposuction incisions so that they will be carefully hidden behind the ears or underneath the chin, making any subsequent scarring difficult to see for the average individual.
In terms of the appearance of the patient's double chin (or lack thereof), within a week there should be a significant and visible improvement. As the swelling goes down, the patient should be able to see a more defined jawline and a sleeker neck. However, at this point, the final results are still not visible. Patients will need to wait a bit longer in order to see their new and improved neck and chin.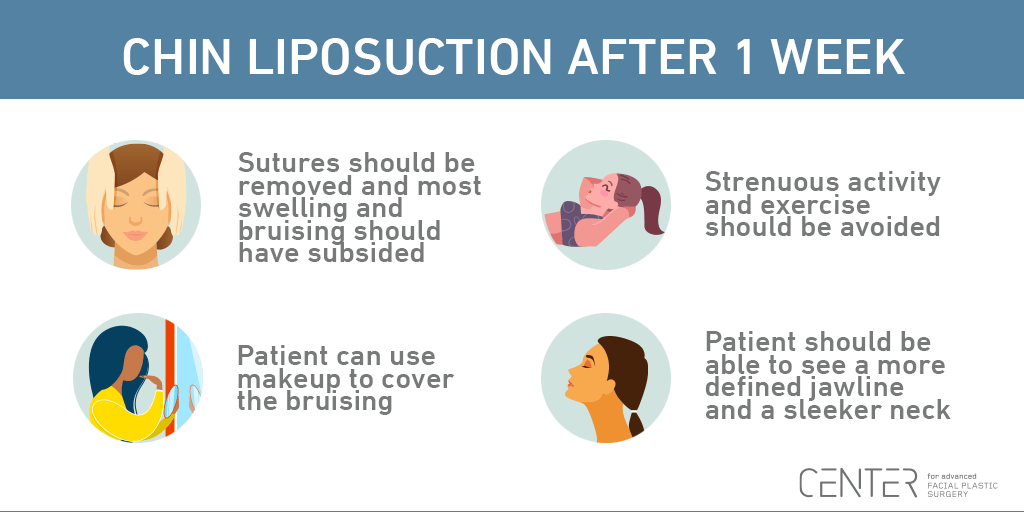 How Quickly Can You See Results From Chin Liposuction?
While chin liposuction after one week results in an improved appearance for the patient's face, chin, and neck, final results will not be fully realized until much later. For some patients, they can expect to see their double chin eradicated after a few short months. However, liposuction results can vary from patient to patient, and some individuals may not see their final results for up to a year. It is essential to exhibit patience in the time following chin liposuction surgery, as everyone heals and recovers differently.
If a patient is concerned that they are not seeing the results they expected, they should contact Dr. Azizzadeh. Dr. Azizzadeh has a flawless reputation as a leading facial plastic surgeon, and if for any reason a patient's chin liposuction procedure is not successful, he will do everything possible to rectify the issue.
Learn What to Expect After Chin Liposuction During a Consultation With Dr. Azizzadeh
Get rid of a double chin for good with chin liposuction from Dr. Azizzadeh. Dr. Azizzadeh is a double board-certified facial plastic and reconstructive surgeon, with valuable experience helping a variety of patients improve their facial appearance. During a consultation, Dr. Azizzadeh will let patients know what to expect after chin liposuction, answering patient's questions regarding a timeline for how long to see results from chin liposuction. While the recovery process is generally short and comfortable, it can oftentimes take months for final results to be visible, so patience is important.
Patients need to have proper and realistic expectations prior to undergoing chin liposuction, and during a consultation, Dr. Azizzadeh will partner with the patient to figure out the best way for them to achieve their goals. To learn more about what to expect after chin liposuction or to schedule a consultation with Dr. Azizzadeh, please call us today at 310-657-2203