Taking care of rhinoplasty stitches following nose surgery is critical to achieve the best-possible treatment results. Fortunately, proper care of rhinoplasty stitches can be simple.
Proper Care of Rhinoplasty Stitches After Surgery: Here's What You Need to Know
A rhinoplasty patient must keep his or her external stitches clean and dry following treatment. This helps limit the risk of infection following nose surgery.
Hydrogen peroxide and antibiotic ointment often help dissolve rhinoplasty stitches inside the nose. A rhinoplasty patient should apply hydrogen peroxide to the suture lines inside the nose once a day with a Q-tip. Also, a rhinoplasty patient should apply antibiotic ointment to the nostrils and incision area twice a day.
We recommend using a humidifier to keep moisture in the air while you heal. Although a rhinoplasty patient can shower as long as they cover their nose with a piece of plastic, baths prove to be a better option to keep the nose dry in the days following nose surgery.
External rhinoplasty stitches are typically removed within one week of treatment. However, if persistent bleeding, redness, fever, infection or other problems occur near a patient's rhinoplasty stitches, this individual should notify his or her facial plastic surgeon immediately. That way, a rhinoplasty patient can quickly address these issues.
Long-Term Rhinoplasty Care Tips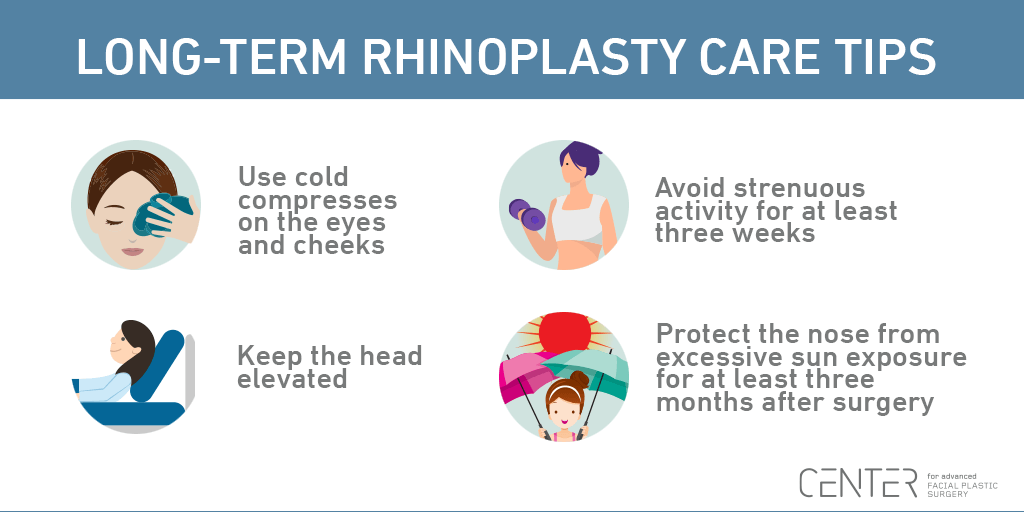 A rhinoplasty may require only a few hours to complete, but a patient who wants to get the best nose job results requires a long-term commitment to nose care and maintenance. There are several ways a patient can take care of his or her nose after a rhinoplasty surgery, and these include:
Use cold compresses on the eyes and cheeks for the first three days following surgery; after the first three days, use a warm compress on facial areas where persistent bruising is present.
Keep the head elevated for at least one to two weeks following surgery.
Avoid strenuous activity for at least three weeks following a rhinoplasty surgery.
Protect the nose from excessive sun exposure for at least three months after surgery; a rhinoplasty patient should wear a brimmed hat and use sunblock with a sun protection factor (SPF) of 15 or higher.
At the CENTER for Advanced Facial Plastic Surgery, patient satisfaction is key. Dr. Babak Azizzadeh, a globally renowned facial plastic and reconstructive surgeon and nose surgery expert, works with patients throughout their rhinoplasty recovery to ensure they can enjoy the best-possible treatment results.
Dr. Azizzadeh's goal is to help a rhinoplasty patient achieve a beautiful, natural-looking nose that complements his or her facial features. To accomplish this goal, Dr. Azzizadeh provides rhinoplasty patients with in-depth instructions about how to care for rhinoplasty stitches and address bruising, swelling and other post-rhinoplasty symptoms.
Rhinoplasty is a complex procedure, and it may take at least a year until a patient enjoys the full results of his or her nose job. Dr. Azizzadeh strives to ensure a rhinoplasty patient's recovery remains on track, and he requests periodic appointments to monitor a patient's progress. These appointments allow Dr. Azizzadeh to identify any potential rhinoplasty recovery issues before they escalate.
Rhinoplasty Care FAQ
What types of nose job stitches are used during surgery?
There are two types of nose job stitches: dissolvable and non-dissolvable. Dr. Azizzadeh can determine if one or both types of stitches are necessary based on the type of nose job, extent of treatment, and other factors.
Dissolvable rhinoplasty stitches are used inside the nose, and the length of time required for these stitches to disappear varies. Some nose job stitches can dissolve within seven to 10 days of surgery, while others require up to three months to disappear.
Non-dissolvable stitches are used on the outside of the nose. Dr. Azizzadeh typically removes non-dissolvable stitches within seven to 10 days of rhinoplasty surgery.
Will treating stitches after surgery cause bleeding?
Patients who try to remove rhinoplasty stitches on their own may inadvertently do more harm than good. In these instances, patients can cause bleeding or nose pain. They can also hamper the results of nose surgery and increase the risk of infection.
When it comes to treating stitches after surgery, meeting with Dr. Azizzadeh is key. Dr. Azizzadeh can safely remove non-dissolvable stitches and limit bleeding and nose pain.
Will Wounds reopen when stitches are removed after nose surgery?
There is a risk that wounds will reopen if rhinoplasty stitches are removed too soon after surgery. Wounds can also reopen if too much force is applied to the treatment area following a rhinoplasty.
Conversely, leaving stitches in place for an extended period of time after a rhinoplasty can be problematic. In these cases, a patient is susceptible to extreme scarring.
Dr. Azizzadeh follows up with a rhinoplasty patient and evaluates their stitches shortly after surgery. This allows Dr. Azizzadeh to determine if it is safe to remove sutures from the nose.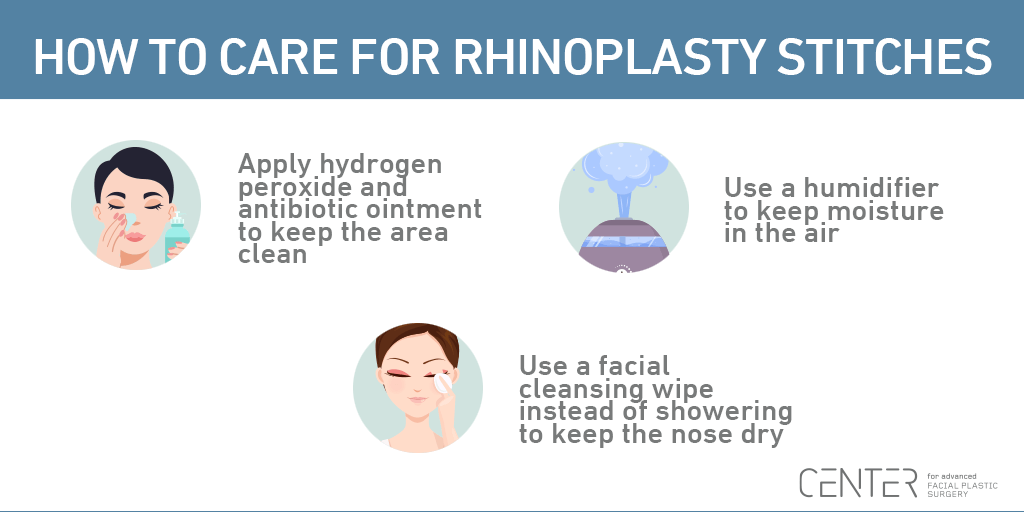 Can you breathe after rhinoplasty surgery?
Yes, but patients sometimes experience breathing issues following rhinoplasty surgery. Nose job patients may experience difficulty breathing through the nose after surgery due to soft tissue swelling that occurs in the nose. However, this issue usually gets better within about one week after a rhinoplasty procedure.
What do you do after nose surgery?
The initial days after rhinoplasty surgery can be difficult for a patient, and it is vital for this individual to prepare accordingly. Nose surgery patients often experience pain and discomfort immediately after treatment. Therefore, a nose surgery patient should must arrangements for a friend or family member to drive him or her home following a rhinoplasty procedure. A nose surgery patient also should have someone stay with him or her for at least the first night after treatment.
Alternatively, many of our rhinoplasty patients choose to reserve a room at Pearl Recovery Retreat, the best surgical aftercare center in the area. At Pearl, patients will have a team of compassionate nurses looking after them 24/7 to ensure they are healing from their rhinoplasty properly.
Dr. Azizzadeh provides full details about what a patient should expect in the initial days after nose surgery. By doing so, a patient can pick up any pain medications before a rhinoplasty procedure and prepare for all aspects of the nose surgery recovery cycle.
How long do you have to wear a bandage after a nose job?
Typically, a rhinoplasty patient is required to wear a nose bandage for one to seven days following surgery. This patient may also need to take baths instead of showers while he or she has bandages inside the nose. Dr. Azizzadeh will notify a patient about how long he or she is expected to wear a bandage after a rhinoplasty surgery.
Is it painful to get a nose job?
Rhinoplasty surgery is commonly performed under general anesthesia to help reduce pain. Yet some patients may experience nose soreness, tenderness, bruising and swelling in the first few weeks after surgery. A patient's nose may be more sensitive to pressure in the weeks following a rhinoplasty procedure, too.
Dr. Azizzadeh strives to provide each rhinoplasty patient with a safe, comfortable and effective treatment experience. He does everything possible to help minimize pain and discomfort during a rhinoplasty procedure. Plus, Dr. Azizzadeh offers in-depth postoperative rhinoplasty surgery recommendations to help a patient alleviate pain following treatment.
What is the fastest way to recover from a nose job?
Most rhinoplasty patients achieve the full results of surgery within about two years. For those who want to speed up the rhinoplasty recovery process, it is important to follow Dr. Azizzadeh's post-surgery instructions.
Dr. Azizzadeh develops a comprehensive rhinoplasty patient treatment plan that is tailored to the individual. Each patient recovers from rhinoplasty surgery at his or her own pace, but Dr. Azizzadeh remains in touch with a patient throughout the treatment recovery cycle. Dr. Azizzadeh requests follow-up appointments so he can check a rhinoplasty patient's recovery. He also is prepared to respond to a nose job patient's concerns or questions throughout the recovery cycle.
When can I go back to work after rhinoplasty surgery?
Most rhinoplasty surgery patients can return to work and other everyday activities within about two weeks of treatment. If a patient works a job that requires heavy lifting, additional time off may be required. Or, this individual may need to return to work with an activity restriction for the first few weeks following rhinoplasty surgery.
Schedule a Nose Surgery Treatment Consultation with Dr. Azizzadeh Today
Dr. Azizzadeh is happy to teach patients about all aspects of rhinoplasty surgery and help them achieve their desired nose job results. To find out more, please contact the CENTER today at 310-657-2203 to schedule a consultation with Dr. Azizzadeh.