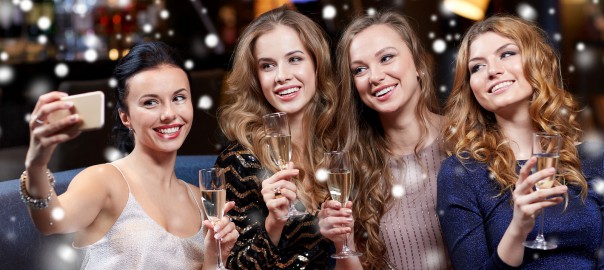 How to Look Your Best in Time for Holiday Parties
The holiday season is rapidly approaching, and now is a great time to prepare for holiday parties.
Although many people stress about how they may look at holiday parties, there is no reason to worry thanks to Dr. Babak Azizzadeh at the CENTER for Advanced Facial Plastic Surgery.
Dr. Azizzadeh is a world-renowned facial plastic surgeon and double board-certified in facial plastic and reconstructive surgery. He also has appeared on "The Oprah Winfrey Show," "The Doctors" and other popular TV shows and remains a leading authority on facial plastic surgery.
After a treatment with Dr. Azizzadeh, an individual can improve his or her facial appearance just in time for the holiday season. Dr. Azizzadeh will meet with an individual and find out why this patient is considering facial plastic surgery. Then, Dr. Azizzadeh will be able to provide a patient with a broad array of surgical and non-surgical options to ensure this individual can achieve his or her cosmetic goals in time for holiday parties.
What Types of Non-Surgical Treatments Are Available?
An individual can take advantage of a variety of fantastic non-surgical treatments with minimal down time to get ready for a holiday party, including:
Chemical Peels – These facial treatments involve the use of a chemical solution to enhance and smooth the texture of the skin by eliminating damaged outer skin layers. We offer several peels from ZO Skin Health by Dr. Zein Obagi. The ZO Ossential Stimulator peel is perfect to get that holiday glow the week of a party, as there is no down time or peeling after the treatment. For a more aggressive peel, which should be performed 2 – 3 weeks before an event, we offer the 3 Step Peel by ZO Skin Health.
Facial Fillers – Numerous facial fillers are available to help an individual bolster his or her facial appearance, and Dr. Azizzadeh is able to offer custom facial filler treatment recommendations. Some of the most common filler treatments include Restylane under the eyes to get rid of under eye bags, Volbella or Juvederm in lips to give you the perfect pout, or Voluma in the cheeks to create more contoured and defined facial appearance.
Botox – Millions of people receive Botox annually, and this facial plastic surgery option is as an injectable treatment designed to smooth fine lines, furrows and wrinkles caused by muscle movements.
Kybella – With Kybella™, an individual can dissolve fat under the chin and reduce the appearance of a double chin.
Ultherapy – A patient can lift and tighten the skin with Ultherapy, a non-surgical treatment that utilizes ultrasound technology to stimulate collagen growth.
Dr.  Azizzadeh will help an individual take the guesswork out of choosing the best non-surgical cosmetic treatments. He offers a wide range of treatment options and will dedicate the necessary time and resources to ensure an individual can get the optimal treatment results.
Why Should You Choose Dr. Azizzadeh for a Facial Plastic Surgery Procedure?
Making a great first impression is paramount, particularly for those who intend to attend holiday parties. Dr. Azizzadeh will make it easy for a patient to put his or her best foot forward. He provides facial plastic surgery treatments to help an individual feel confident and comfortable with his or her facial appearance both now and in the future.
Dr. Azizzadeh is a Harvard-trained facial plastic surgeon who understands how to perform numerous facial plastic surgery treatments. He will provide a patient with information about multiple surgical and non-surgical treatment options and help an individual understand the benefits of each type of procedure. Plus, Dr. Azizzadeh will respond to a patient's concerns and ensure he or she is prepared for a facial plastic surgery treatment.
Schedule a Facial Plastic Surgery Consultation with Dr. Azizzadeh
To find out more about all of the facial plastic surgery treatments that are available, please schedule a consultation with Dr. Azizzadeh at the CENTER for Advanced Facial Plastic Surgery.