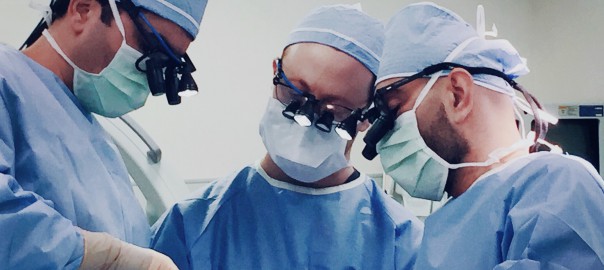 Rhinoplasty: Helping More Than Just Your Appearance
Rhinoplasty, aka "nose job," is one of the most popular cosmetic procedures in the world. The surgery reshapes the nose, enabling a person to enhance his or her facial appearance and bring balance to all of their facial features as a whole.
Moreover, rhinoplasty serves as a procedure that can help an individual improve his or her nasal function. It is frequently used to repair structural defects in the nose, such as correcting breathing problems.
Dr. Azizzadeh will evaluate a blocked airway carefully, examining the nasal structure and how an obstruction impacts an individual's airflow and breathing. If necessary, he may perform a rhinoplasty/septoplasty to adjust the nasal structure accordingly.
Furthermore, rhinoplasty can be used to treat a number of nasal problems, including:
Deviated Septum – A deviated septum will separate the left and right nasal passages, resulting in blockage of one or both air passages. A facial plastic surgeon can perform a rhinoplasty to straighten the septal partition and open blocked air passages.
Enlarged Turbinates – Turbinates, i.e. mucous membrane-covered pieces of bone that extend the length of the nasal cavity, may become enlarged in patients who deal with nasal allergies. Rhinoplasty can be used to reduce the size of enlarged turbinates, leading to improved nasal airflow.
Nasal Polyps – Nasal polyps represent small growths that may obstruct nasal passages. These polyps can be removed at the same time as a rhinoplasty.
Nasal Valve Collapse – The nasal valve represents the narrowest segment of the nasal airway, and if it collapses, an individual may struggle to breathe. These nasal valve collapses can be fixed at the same time as a rhinoplasty.
In some unfortunate cases, when an inexperienced surgeon performs a rhinoplasty, the patient can end up with functional issues, such as nasal valve collapse, or poor aesthetics. As a double board certified plastic surgeon in both Head & Neck Surgery and Facial Plastic & Reconstructive Surgery, Dr. Azizzadeh has an unparalleled knowledge of both nasal anatomy and aesthetics. He specializes not only in primary rhinoplasty procedures, but is also a world-renowned expert in revision rhinoplasty.
A revision rhinoplasty is necessary when the primary rhinoplasty was not successful, either aesthetically or functionally. The procedure is designed to help a patient repair both the form and function of the nose following a rhinoplasty surgery. Ultimately, revision rhinoplasty may allow a patient to improve his or her facial appearance and enhance his or her breathing. If an individual needs a revision rhinoplasty, it is vital to find an expert, like Dr. Azizzadeh, to make sure no further damage is done and to truly fix the issues.
How Can an Individual Receive a Rhinoplasty?
Finding a skilled, experienced plastic surgeon is paramount for individuals who are considering rhinoplasty or revision rhinoplasty. Fortunately, Babak Azizzadeh, MD, FACS, of the CENTER for Advanced Facial Plastic Surgery serves as a rhinoplasty expert and is happy to help a patient accomplish his or her rhinoplasty goals.
Over the years, Dr. Azizzadeh has helped many celebrities, international dignitaries, and other prominent individuals. He represents a leading authority on rhinoplasty, revision rhinoplasty, and other facial plastic surgeries, and as such, will do everything possible to guarantee that a patient is fully satisfied with the end results.
Schedule a Rhinoplasty Consultation with Dr. Azizzadeh
Want to learn about rhinoplasty and how this procedure may help an individual improve his or her appearance? To find out more about the benefits of rhinoplasty, please schedule a consultation with Dr. Azizzadeh at the CENTER for Advanced Facial Plastic Surgery.