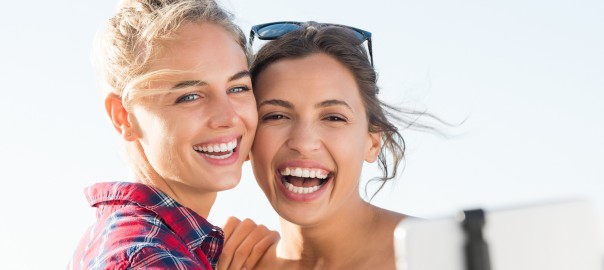 Selfie Nation: How Does Social Media Influence Plastic Surgery?
Facebook, Instagram, Snapchat and other social networks play key roles in most Americans' daily routines, which is reflected in recent data.
According to Pew Research Center, nearly 70 percent of Americans currently use social media. Pew Research Center also indicated Millennials, i.e. individuals born after 1980, use social networks at higher levels than all other demographic groups – a trend that appears likely to continue in the foreseeable future.
Social media empowers Millennials to share information, engage with news content and entertain themselves like never before. However, social media may be driving an increase in cosmetic procedures among Millennials as well.
Analyzing the Link Between Social Media and Plastic Surgery
The American Society of Plastic Surgeons (ASPS) "2015 Plastic Surgery Statistics Report" provided insights into the following cosmetic plastic surgery demographic trends:
64,000 surgical procedures were performed on individuals between the ages of 13 and 19 years old, up 1 percent year over year.
249,000 surgical procedures were performed on individuals between the ages of 20 and 29 years old, a 1 percent increase from 2014.
365,000 surgical procedures were performed on individuals between the ages of 30 and 39 years old, a 2 percent year-over-year increase.
Meanwhile, the Millennial generation is leading a "selfie" revolution – just consider some of the recent selfie statistics compiled by Frames Direct:
On average, a Millennial will take up to 25,700 selfies during their lifetime.
55 percent of Millennials share selfies on social media.
The average Millennial spends at least one hour per week posting selfies on social networks.
To date, Instagram has more than 250 million #selfie posts, and this figure continues to increase daily.
Social networks are exceedingly popular and show no signs of slowing down anytime soon. Moreover, the number of annual cosmetic procedures continues to rise among the Millennial population.
Ultimately, many Millennials may consider plastic surgery to improve their appearance in selfies and other social media images. With an informed approach to plastic surgery, Millennials can understand the short- and long-term ramifications of a cosmetic procedure and make the right treatment decision based on their personal needs.
Plastic Surgery: Here's What Millennials Need to Know
Many cosmetic procedures are available, and each treatment may impact an individual's appearance in a variety of ways.
Some of the leading plastic surgeries include:
Rhinoplasty: Commonly referred to as a "nose job" or "nose surgery," rhinoplasty enables an individual to improve facial symmetry. It may be used to correct structural defects in the nose too.
Submental Liposiction: Liposuction under the chin eliminates the appearance of a "double chin" and creates a thinner facial profile.
Brow Lift: A brow lift enables an individual to raise drooping eyebrows and reduce the appearance of deep furrows and a heavy, sagging brow.
Eyelid Lift: Thanks to an eyelid lift, an individual can remove bags that form under the eyelids, correct drooping lower eyelids and minimize excess fat deposits in the eyelids.
Also, many non-surgical cosmetic procedures are available, and some of the leading non-surgical cosmetic treatments include:
Botox: Perhaps the most popular non-invasive cosmetic procedure, Botox helps reduce the appearance of fine lines and wrinkles on the forehead and around the eyes.
Facial Fillers: With facial fillers, an individual can use injectable medications to fill in fine lines and creases throughout the face to create more cheek contour, erase under eye bags, or enhance the size and shape of the lips.
Laser Skin Resurfacing: DOT Deka laser skin resurfacing treatments can help an individual improve the skin's tone, texture and pigmentation.
The CENTER for Advanced Facial Plastic Surgery wants to teach Millennials about cosmetic surgery, how it works and its benefits.
Now, let's take a look at three questions that Millennials should consider about plastic surgery.
How will plastic surgery impact my appearance?
It is important for an individual to allocate the necessary time and resources to learn about surgical and minimally invasive cosmetic procedures before undergoing treatment. This will enable a person to understand a procedure's impact on the facial appearance. Furthermore, it is very important to have a very honest conversation with the facial plastic surgeon to make sure both parties have the same expectations for the results of the surgery.
What should I expect after a cosmetic procedure?
The goals and results of a cosmetic procedure will vary depending on the individual. Therefore, it is paramount for a person to establish realistic cosmetic treatment expectations.
Dr. Babak Azizzadeh of the CENTER for Advanced Facial Plastic Surgery is a globally recognized facial plastic and reconstructive surgeon who recognizes the immediate and long-term impact of a cosmetic procedure. He will meet with a patient to learn about the individual's cosmetic treatment goals and ensure this person can get the best results possible.
Is a cosmetic procedure right for me?
Plastic surgery represents a major decision, regardless of a person's age. As such, a person should learn as much as possible about plastic surgery prior to treatment.
When it comes to facial plastic surgery, working with an expert facial plastic and reconstructive surgeon like Dr. Azizzadeh is a must. This surgeon will be able to describe a cosmetic procedure in detail and respond to a patient's concerns and questions.
A Final Word on Cosmetic Surgery for Millennials
Millennials are the largest living generation in the United States. They are tech-savvy individuals who understand the ins and outs of social media and are unafraid to share personal images across social networks.
At the same time, many Millennials have shown a willingness to undergo cosmetic procedures over the past few years. As the selfie revolution continues, Millennials may consider cosmetic treatments to enhance their facial appearance.
A cosmetic procedure rarely, if ever, represents a "quick-fix" solution to transform an individual's appearance. Although some cosmetic procedures provide fast results, various treatments may require several weeks or months before the full results become apparent.
For those who are considering cosmetic surgery, meeting with a facial plastic and reconstructive surgeon like Dr. Azizzadeh can provide a valuable learning experience. This consultation will enable an individual to learn about the short- and long-term effects of a cosmetic procedure and make an informed treatment decision.