Buccal fat pad removal and cheek liposuction are facial rejuvenation procedures designed to treat "chubby" cheeks and enhance facial symmetry. Each procedure has its pros and cons, and in some instances, people struggle to differentiate one from the other. Now, let's examine buccal fat pad removal and cheek liposuction, the differences between the two and how each procedure helps an individual achieve a balanced, natural-looking facial appearance.
What Is Buccal Fat Pad Removal?
Buccal fat pad removal, also referred to as cheek fat removal or buccal lipectomy, is used to eliminate excess fat pads from the cheeks. It treats full, round or chubby cheeks that otherwise cause an asymmetrical facial appearance.
A buccal fat pad removal procedure is performed inside of a patient's mouth; this means a patient won't have to worry about post-treatment scarring. During the procedure, a specific amount of a patient's buccal fat pad is removed. This ensures a patient can achieve a harmonious facial appearance.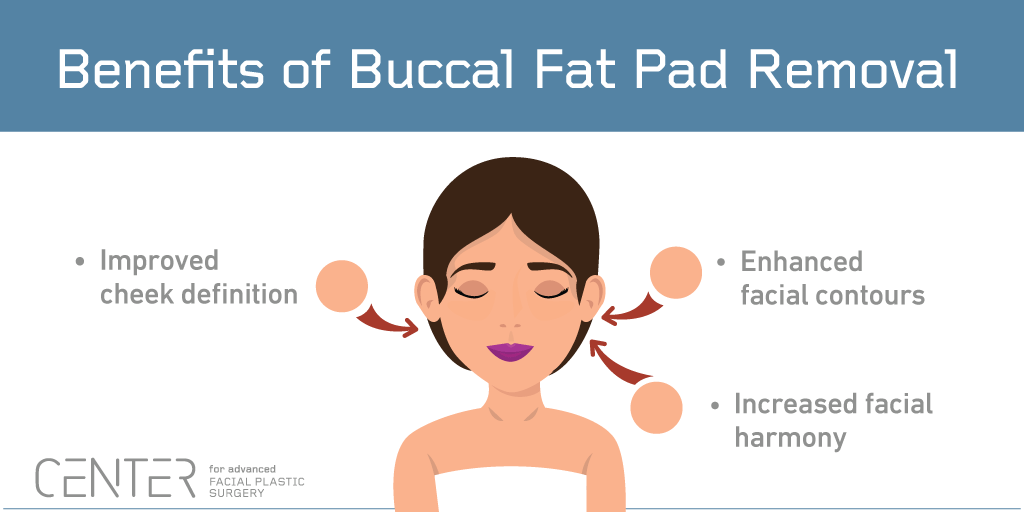 Buccal fat pad removal offers many benefits, such as:
Improved cheek definition
Enhanced facial contours
Increased facial harmony
Sometimes, buccal fat pad removal is performed in combination with other facial rejuvenation procedures, including:
Facelift: Minimizes the appearance of visible signs of aging in the face and neck.
Blepharoplasty: Corrects under-eye bags, as well as drooping upper eyelids.
Mid-Facelift: Treats visible signs of aging in the cheeks and lower eyelids.
Neck Lift: Addresses visible signs of aging in the neck and jawline.
Chin Augmentation: Involves the placement of a small implant in the front of the chin bone.
Buccal lipectomy is a safe, effective facial rejuvenation procedure, but it is not right for everyone. The ideal candidates for buccal fat pad removal likely deal with one or more of the following cheek issues:
Chubby or puffy cheeks
Convex cheek appearance
Prominent high cheekbones
Sunken cheeks under the cheekbones
A facial plastic and reconstructive surgeon dedicates significant time and resources to minimize complications during buccal fat pad removal. However, there are risks associated with buccal lipectomy, and these risks include:
Infection
Bleeding
Numbness
Pain
Fluid accumulation
The buccal fat pad removal recovery period may last up to 10 days. During this time, a patient may need to maintain a soft or semi-liquid diet so tissues in the mouth can fully recover.
Buccal lipectomy patients sometimes experience facial swelling after surgery, but this usually disappears on its own within about three weeks of treatment. Once the swelling stops, a patient's cheeks will look thinner and more contoured.
The full results of buccal fat pad removal become visible within a few months of treatment. Meanwhile, a facial plastic and reconstructive surgeon requests follow-up appointments to track a buccal lipectomy patient's progress after treatment.
What Is Cheek Liposuction?
Cheek liposuction involves the removal of fatty tissue from the cheeks. It is sometimes performed on individuals dealing with chubby cheeks that do not improve with diet and exercise.
During a cheek liposuction procedure, excess fat is removed from a patient's cheeks via a cannula and a vacuum device. Cheek liposuction is often performed as an outpatient procedure under general or local anesthesia or intravenous sedation. The procedure usually lasts about 30 to 60 minutes, and only a few ounces of fat are removed during a typical cheek liposuction treatment. Cheek liposuction ultimately helps improve facial contours, resulting in a slimmer facial appearance.
Swelling, soreness and burning sometimes occur after cheek liposuction. These symptoms are temporary and disappear shortly after treatment. Also, full recovery from cheek liposuction may require about a month.
Cheek liposuction is intended for people who have good skin elasticity. Otherwise, individuals may need to pursue buccal fat pad removal or other procedures to achieve their desired facial rejuvenation treatment results.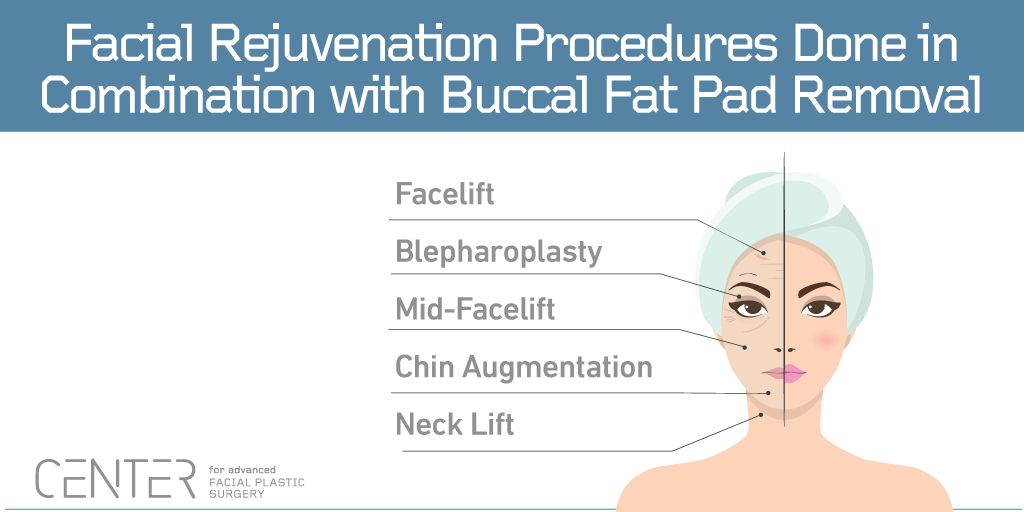 Which Facial Rejuvenation Treatment Should You Choose: Buccal Fat Pad Removal or Cheek Liposuction?
Buccal fat pad removal and cheek liposuction are similar, but it is important to note the differences between these facial rejuvenation treatments. Whereas buccal fat pad removal eliminates excess fat pads from the cheeks via surgery, a cheek liposuction procedure requires a cannula and vacuum device to address chubby cheeks.
Deciding between buccal fat pad removal and cheek liposuction often requires expert guidance. By meeting with a facial plastic and reconstructive surgeon like Dr. Babak Azizzadeh, an individual can learn about different facial rejuvenation treatments and select one that matches his or her expectations.
Dr. Azizzadeh takes a holistic approach to facial rejuvenation treatments. If a person is considering buccal fat pad removal or cheek liposuction treatments, Dr. Azizzadeh first requests a consultation. Dr. Azizzadeh then evaluates a patient and reviews his or her medical history. Finally, Dr. Azizzadeh provides a personalized facial rejuvenation treatment recommendation so a patient can accomplish his or her desired results, as quickly as possible.
For those who are evaluating buccal fat pad removal, cheek liposuction or other facial rejuvenation procedures, Dr. Azizzadeh is happy to provide expert insights into these treatments. To learn more about different facial rejuvenation treatment options, please contact us today at 310-657-2203 to schedule a consultation with Dr. Azizzadeh.