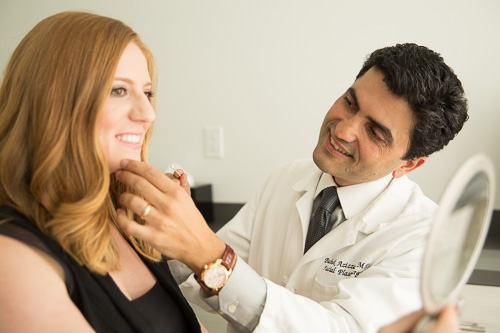 When to Get Fillers and When to Get Surgery
Determining the best way to enhance the facial appearance may prove to be difficult. In some instances, individuals choose facial fillers to fill in fine lines and creases throughout the face. For others, facelift surgery may prove to be the best option to help rejuvenate the facial appearance.
So which is better: facial fillers or facelift surgery? Ultimately, the answer to this question depends on the individual. To better understand why this is the case, let's take a closer look at facial fillers and facelift surgery.
Facial Fillers
Dermal fillers are non-surgical treatments that help people address many common signs of aging in the face. Over time, collagen under the skin breaks down, which causes wrinkles to form and skin to sag. Thanks to facial fillers, individuals can replace lost collagen and reduce or eliminate wrinkles.
Although dermal fillers won't counteract all signs of aging in the face, they have been shown to deliver safe, effective results. As such, there are many reasons why individuals choose facial fillers, including:
Create better facial symmetry
Improve hollows in the temples
Reduce bags under the eyes
Enhance cheek definition
Boost lip fullness
Decrease the appearance of marionette lines, smile lines or vertical "smoker's lines"
Many facial fillers are available, and each has a different purpose and application area. Some of the most-popular facial fillers are:
Belotero: Helps smooth out and fill in nasolabial folds (folds or wrinkles that extend from the side of the nose to the corner of the mouth).
Juvederm XC: Softens moderate to severe facial lines and wrinkles, resulting in a smoother facial appearance.
Juvederm Ultra Plus: Helps people treat nasolabial folds, as well as plump the lips.
Restylane: Offers a hyaluronic acid gel filler that helps reduce the appearance of facial folds and wrinkles.
Sculptra: Serves as an injectable liquid that helps add volume to the face, leading to a softer, more-natural and more-youthful appearance.
Voluma: Helps add volume to the cheeks; Voluma is part of the Juvederm family of FDA-approved injectable facial treatments.
Dr. Babak Azizzadeh is a globally recognized and Harvard-trained facial plastic and reconstructive surgeon with decades of experience. He takes a comprehensive approach to facial fillers and customizes each treatment to the needs of a patient. By doing so, Dr. Azizzadeh can determine whether facial fillers will help a patient properly address various facial issues.
Facelift Surgery
Like facial fillers, a facelift is designed to help a person revitalize the facial appearance. It may be performed on individuals who display any of the following signs of aging in the face:
Asymmetry
Facial expression lines
Loss of collagen and/or skin elasticity
Loose skin
Volume loss
When it comes to facelift surgery, Dr. Azizzadeh takes a holistic approach. He first helps a patient identify the underlying issues in the face. Then, Dr. Azizzadeh offers a precise treatment to deliver optimal results.
Dr. Azizzadeh educates patients to help them decide between facial fillers and facelift surgery. He may even recommend a combination of fillers and surgery to help an individual achieve a balanced and natural-looking facial appearance.
To find out more about facial fillers and facelift surgery, please call us at (310) 657-2203 to schedule a consultation with Dr. Azizzadeh.