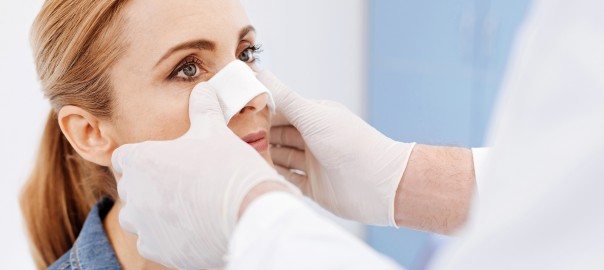 Are You Considering Rhinoplasty? Here's What You Need to Know
Rhinoplasty, also known as a nose job or nose surgery, enables individuals to improve their facial appearance and correct structural defects in the nose. It is an intricate procedure, and as such, a person should take some time to learn about nose surgery before undergoing treatment.
Fortunately, the CENTER for Advanced Facial Plastic Surgery is here to help people take the guesswork out of rhinoplasty.
To better understand rhinoplasty, let's consider the following nose surgery facts:
1. Rhinoplasty is one of the most common cosmetic surgeries.
The American Society of Plastic Surgeons (ASPS) points out more than 223,000 rhinoplasty treatments were administered in 2016, up 2 percent year over year. In addition, ASPS states rhinoplasty ranked among the most popular cosmetic procedures last year.
Although rhinoplasty is becoming increasingly common across the United States, it is important to remember that nose surgery should always be performed by an expert facial plastic and reconstructive surgeon like Dr. Babak Azizzadeh.
Dr. Azizzadeh is double board-certified in otolaryngology (head and neck surgery) and facial plastic and reconstructive surgery and possesses a thorough understanding of the underlying structures of the head and nose. He is committed to helping nose surgery patients achieve the best aesthetic outcomes possible without putting their breathing in danger.
2. Several types of rhinoplasty treatments are available.
Common rhinoplasty treatments include:
Ethnic Rhinoplasty: Takes into account an individual's ethnic identity. Ethnic rhinoplasty describes any nose surgery that is performed on non-Caucasian patients.
Nasal Reconstruction: Helps an individual improve the facial appearance after an accident, nasal collapse, skin cancer or trauma to the nose. Nasal reconstruction is designed to provide patients with their desired surgical outcomes and help them maintain the integrity of the nasal function.
Revision Rhinoplasty: Allows an individual to reshape the nose following a primary rhinoplasty treatment. Revision rhinoplasty often is an ideal option for people who are unhappy with the cosmetic results of an initial nose job, or for those who need to restore the nasal function if it was impaired during a previous rhinoplasty.
Dr. Azizzadeh is a globally recognized facial plastic and reconstructive surgeon for his high success rates for all variations of rhinoplasty. He is happy to discuss the various nose surgery options with individuals and help them make the best treatment choice.
3. The final results of rhinoplasty should be apparent within one to two years of treatment.
Initial nose surgery recovery usually requires about seven to 10 days; after this period, an individual should be able to return to work or school. Also, within roughly three to four weeks of nose surgery, a patient should be ready to attend social events.
Bruising and swelling are two of the most common symptoms that a nose surgery patient may experience. Bruising can last up to two weeks, while initial swelling lasts up to three to four weeks. However,  it is important to note that while swelling goes down around the tip and bridge of the nose, there is still internal swelling that can take 12 to 24 months before it is completely gone.

Share this Image On Your Site
Because of this internal swelling, a rhinoplasty patient should see the full results of nose surgery within one to two years of treatment. At this point, a patient can enjoy a beautiful, natural-looking nose that complements the facial features.
Everyone heals differently, and the nose job recovery timeframe varies from patient to patient.
Dr. Azizzadeh helps patients prepare for rhinoplasty by providing them with insights into nose surgery and its recovery process. To learn more, please call us at 310-657-2203 to schedule a rhinoplasty consultation.