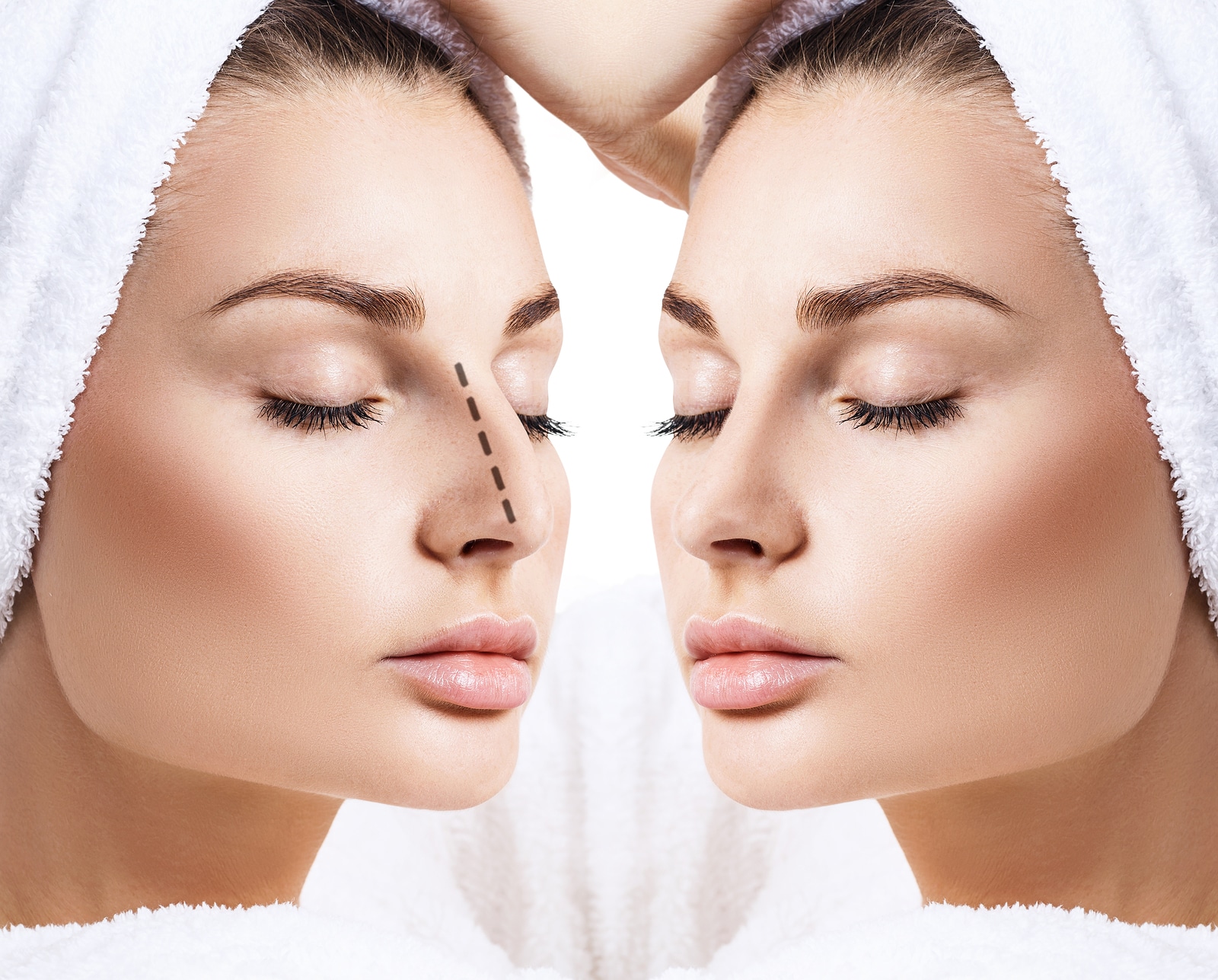 The Difference Between Open and Closed Rhinoplasty
Open rhinoplasty and closed rhinoplasty are surgical procedures used to correct nasal asymmetry and enhance the nasal proportions. However, these procedures are not interchangeable. To better understand open rhinoplasty and closed rhinoplasty and their differences, let's take a closer look at both nose surgery procedures.
What Is an Open Rhinoplasty?
An open rhinoplasty is used to treat the nasal tip and middle portion of the nose. It involves the use of a small bridging incision to link incisions to the right and left nostrils. The bridging incision allows the nasal skin to be folded upward, thereby providing full access to the lower nasal skeleton.   
What Is a Closed Rhinoplasty?
During a closed rhinoplasty procedure, the incisions are hidden inside a patient's nose. A closed rhinoplasty involves modifications performed inside the nostrils. As such, a closed rhinoplasty is generally recommended for rhinoplasty patients who require nasal bridge modifications.
Which Is Better: Open Rhinoplasty or Closed Rhinoplasty Surgery?
Open rhinoplasty and closed rhinoplasty surgery are different, but one is not superior to the other. Fortunately, Dr. Babak Azizzadeh of the CENTER for Advanced Facial Plastic Surgery in Los Angeles helps each rhinoplasty patient determine whether an open or closed surgical approach can deliver the optimal treatment results.
Dr. Azizzadeh takes a holistic approach to rhinoplasty surgery. He understands no two patients' noses are identical, and each rhinoplasty procedure varies based on an individual's desired results. Therefore, Dr. Azizzadeh first performs a comprehensive patient analysis to determine if an individual qualifies for rhinoplasty. If a patient is a good candidate for rhinoplasty, Dr. Azizzadeh then decides if open rhinoplasty or closed rhinoplasty surgery can help a nose job patient achieve a balanced, beautiful and natural-looking facial appearance.    
During a rhinoplasty consultation, Dr. Azizzadeh learns about a patient and his or her treatment goals. Additionally, he uses the Aging Arc, a visualization tool that allows a patient to see how his or her nose will look after a rhinoplasty procedure.
If Dr. Azizzadeh determines rhinoplasty surgery helps a patient achieve facial harmony, he crafts a personalized treatment strategy. Dr. Azizzadeh then outlines all aspects of a rhinoplasty treatment plan, and he explains whether open rhinoplasty or closed rhinoplasty surgery will help a patient accomplish the best-possible results.
Ultimately, Dr. Azizzadeh may recommend rhinoplasty surgery to improve the facial aesthetic or enhance the nasal function. He also performs nose surgery for patients who display one or more of the aforementioned characteristics:
Bulbous or short, upturned nasal tip

Hanging columella (bridge of tissues that separates the nostrils at the nasal base)

Nose that is too wide or narrow

Flaring or wide nostrils

Dorsal hump (hump on nose)

Nasal bridge that is too high or low

Crooked, droopy, long or upturned nose

Asymmetrical or under-projected nose

Disproportionate nostrils

Alar pinching
Dr. Azizzadeh administers several types of rhinoplasty surgeries, too. These procedures include:
Dr. Azizzadeh is happy to meet with a patient and help him or her decide if open rhinoplasty or closed rhinoplasty surgery is the right choice. To find out more, please contact us today at 310-657-2203 to schedule a rhinoplasty surgery consultation with Dr. Azizzadeh.