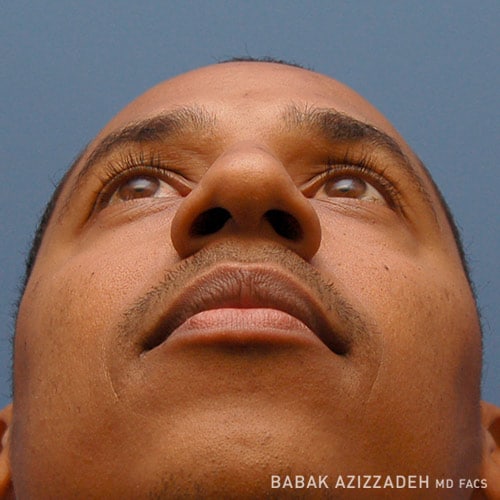 Dr. Azizzadeh's Process for Achieving a Natural-Looking Nose
Rhinoplasty, aka a "nose job," enables patients to reshape the nose to improve its overall appearance. It also helps patients fix problems related to a deviated septum or breathing issues and restore the nasal function.
Dr. Babak Azizzadeh of the CENTER for Advanced Facial Plastic Surgery in Beverly Hills, strives to provide each rhinoplasty patient with a natural-looking nose. As a board-certified surgeon with expertise in facial plastic and reconstructive surgery and otolaryngology (head and neck surgery), Dr. Azizzadeh helps each rhinoplasty patient achieve a natural outcome.
For Dr. Azizzadeh, a natural-looking nose takes into account a patient's anatomy, ethnicity, gender, height and other factors that go into creating a nose that perfectly fits the face. Dr. Azizzadeh believes there is no such thing as just one "perfect" nose, but there is a perfect nose for each person. As such, he examines a patient's bone structure, chin, lips and other facial features to help create a nose that matches the face.
A Holistic Approach
To create the right nose for a patient's face, Dr. Azizzadeh takes a detailed approach to nose surgery and examines every aspect of the face. He boasts in-depth knowledge of facial harmony and provides patients with the best possible approach to rhinoplasty.
Dr. Azizzadeh understands the eyes – not the nose – are the focal point of the face. When people look at the face, their focus naturally goes to the eyes. After a successful rhinoplasty, a natural-looking nose does not stand out. Instead, the surgery ensures the eyes are the key focus of the face.
During a consultation, Dr. Azizzadeh asks patients what it is about their nose they would like to improve, how long they have had these concerns and what their expectations are for nose surgery. Next, he spends as much time as necessary learning about patients and their cosmetic objectives. He asks question and assesses several topics, including:
Age
Frontal appearance of the nose
Nasal tip and base
Relationship between nose and lips
Dr. Azizzadeh also examines each rhinoplasty patient's nose and facial features, including the lips and chin. He uses the Vectra 3D imaging system to take 3D photographs of the face and review the face from all angles. The Vectra system allows Dr. Azizzadeh to alter the appearance of the nose on a screen and use images to highlight the expected outcome of nose surgery.
Balanced Results
The ultimate goal of rhinoplasty is to create a nose that fits the face, is appropriate and does not stand out. Dr. Azizzadeh helps patients understand all of their cosmetic options. He educates patients about the underlying causes of their cosmetic complaints and provides insights into how each treatment option will address those issues.
Dr. Azizzadeh prioritizes patient satisfaction. He constantly goes above and beyond the call of duty to support rhinoplasty patients. He is happy to work with patients to ensure their nose surgery goals are met. Plus, Dr. Azizzadeh leverages high-quality tools and equipment to provide patients with best-in-class support.
To learn more about rhinoplasty, please contact us at 310-657-2203 to schedule a consultation.