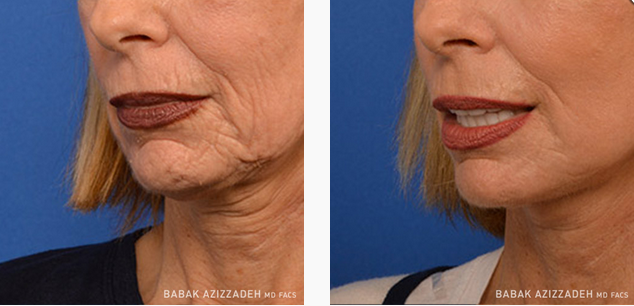 Why the Mid Facelift Is Extinct: A Holistic Approach to Facelift Surgery
The days of a traditional mid facelift, upper facelift and lower facelift are over. In fact, Dr. Babak Azizzadeh of the CENTER for Advanced Facial Plastic Surgery is a Harvard-trained facial plastic and reconstructive surgeon who focuses on the entire face as a continuum. By doing so, Dr. Azizzadeh takes a holistic approach to facelift surgery.
Dr. Azizzadeh focuses on performing facelift surgery that creates soft transitions between various "facial anatomic subunits." By focusing on facial anatomic subunits, Dr. Azizzadeh helps patients improve the overall facial shape.
To provide optimal facial rejuvenation, Dr. Azizzadeh emphasizes smooth transitions between the temple, zygomatic arch, lateral cheeks, lower eyelids, anterior midface, buccal space, mandibular jawline and neck. This approach creates facial harmony and enhances youthful contours in the face.
The ultimate goal of facial rejuvenation is to help patients improve the facial appearance in a natural, youthful, attractive and appropriate manner. Dr. Azizzadeh's holistic approach to facelift surgery ensures patients can restore the facial shape and improve the youthful arcs and highlights of the face.
Dr. Azizzadeh often utilizes a combination of procedures to help patients achieve balanced and natural-looking results. These procedures include:
Autologous Fat Grafting: With autologous fat grafting, Dr. Azizzadeh uses a patient's own body fat to plump up sunken portions of the face or add volume to the face.
Buccal Space Modification: The buccal space is in the cheeks. Dr. Azizzadeh performs buccal space modification to address excess buccal space convexity or concavity.
Chin Augmentation: During a chin augmentation, Dr. Azizzadeh inserts a surgical implant in the front of the jawbone to increase and enhance the length of the jawline. Or on the other hand, he can minimize the size of an over-pronounced chin.
Conservative Periorbital Rejuvenation: This procedure usually involves a combination of a brow lift with blepharoplasty. By performing conservative periorbital rejuvenation, Dr. Azizzadeh helps patients revitalize the appearance of the eyes.
Non-surgical procedures also are available and can help rejuvenate the facial appearance, and these treatments include:
Botox: Botox is one of the most popular non-invasive cosmetic procedures. Dr. Azizzadeh administers Botox injections to help patients smooth fine lines, furrows and wrinkles caused by excess muscle movements in the face.
Facial Fillers: Azizzadeh offers facial fillers that can be used to fill in fine lines and wrinkles throughout the face, restore volume to hollow temples or under eyes, and enhance the size and shape of the lips.
Laser Skin Resurfacing: With laser skin resurfacing, Dr. Azizzadeh provides DOT Deka laser skin treatments to help reduce the appearance of facial wrinkles, sun damage and other facial flaws.
Dr. Azizzadeh understands the aging process affects each person differently and promotes an individualized approach to facelift surgery. He works with patients to help them find the best way to create facial harmony.
Additionally, Dr. Azizzadeh uses his "Aging Arc" tool to help those who are considering facelift surgery. He uses the Aging Arc to visually show his patients the age of their face relative to their age. Dr. Azizzadeh wants to help patients reach the positive range on the Aging Arc, thereby ensuring a patient's facial appearance is radiant and healthy.
Dr. Azizzadeh is happy to teach individuals about a variety of facelift treatments. To schedule a consultation with Dr. Azizzadeh, please contact us at 310-657-2203.